Jim Thompson House Museum, Thailand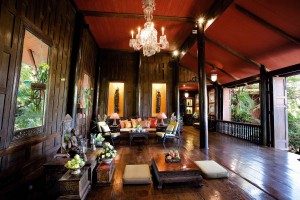 The Jim Thompson House Museum is the former home of James H.W. Thompson, a self-made American entrepreneur who was the founder of the world renowned Jim Thompson Thai Silk Company. Arriving in Bangkok at the end of World War II, Jim Thompson became passionately interested in Southeast Asian art and antiques. He purchased several old teak houses to create his own unique home in Bangkok in order to house his growing collection. The original Jim Thompson house and outbuildings were re-constructed from all or sections of six separate old houses that were brought from various parts of the country.  After Jim Thompson's mysterious disappearance inMalaysia in 1967, his nephew Henry B Thompson III generously donated the house and its collection to the people of Thailand.  Open daily to the public for guided tours in English, Japanese, French and Thai, the museum is operated by The James H W Thompson Foundation. Generally the museum remains the way it looked when Jim Thompson lived there, however the Foundation has slightly rearranged certain displays in the interest of security.  Two small buildings, formerly used by household staff, have been turned into additional museum display space. The 
Jim Thompson Art Center
, a large gallery purpose-built to house special exhibitions is located in the same compound. Exhibitions in the Art Center generally focus on Asian topics or textiles, and range from traditional to modern in theme.  In addition to exhibitions, the Art Center conducts educational and outreach programs, produces publications and collaborates with local and international cultural institutions.  The Art Center also includes in a separate building, the William Warren Library.
As a small independent museum, belonging to an international organisation like ASEMUS that supports museums, will be of benefit in terms of resources, networking and sharing information about our programs.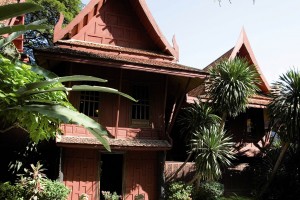 Collection size:
  1,600 objects
Collection
: Asian and Southeast Asian paintings, ceramics, sculpture and object d'art acquired by Jim Thompson. The collection includes: Paintings: The Thai paintings in the Thompson collection are on cloth, paper and wood. Most are on cotton and range from fairly small to tapestry size. The subject matter generally relates to either the life of Buddha or the popular Jataka stories, in particular the legend of Prince Vessantara, who shows the virtue of Charity by giving up his worldly possessions, his wife and children. Ceramics:  The collection includes Chinese export ware, mainly blue and white porcelain, of which numerous pieces found their way to Thailand in the sixteenth and seventeenth centuries. There is also a large collection of Benjarong ware, porcelain originally made to order in China for the Thai nobility.  Sukhothai and Sawankalok wares produced in kilns in Thailand also figure in the collection as do Lopburi and Khmer wares. Sculpture:  The sculpture in the museum is Southeast Asian, and is principally from Thailand andCambodia, with a few pieces from Burma. The collection includes stone Khmer statues and Buddha images and Burmese wooden figures Furniture:  The museum has an extensive antique collection of carved, painted and inlayed Thai-Chinese furniture including altar tables, beds and cabinets.  In addition, there is the contemporary furniture Jim Thompson used in his home.