Submissions I 8TH INTERNATIONAL DOK LEIPZIG CO-PRODUCTION MEETING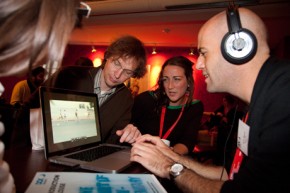 Submissions are now open for European producers to apply to the 8th International DOK Leipzig Co-Production Meeting. 
Hear it from the organizers - 
Submit your Film to the 8th Co-Production Meeting!
The meeting targets to encourage international co-productions and to help finance outstanding documentary projects for an international audience.
We will again be welcoming selected producers from Central and Eastern Europe, who will join us with their innovative film ideas developed at the workshops Ex Oriente Film (Czech Republic), Dragon Forum (Poland) and BDC Discoveries (Bulgaria).
DOK Leipzig offers:
•    Access to the latest news and detailed insights and discussion into documentary film markets of various countries (documentary slots, film and media funds, theatrical market and distribution opportunities, co-production agreements).
•    Scheduled one on one meetings with potential co-producers (day one) and potential financiers (day two) such as representatives of film and media funds, commissioning editors, distributors and relevant institutions.
•    Various networking possibilities in a pleasant, relaxed environment.
•    The DOK Festival, with an exciting international film program and substantial framework programme.
We Are Looking for:
•    Courageous, talented documentary film producers seeking to establish new contacts and to find co-production partners.
•    Good documentary film projects in development, which – in the best case – are already partially financed and of real interest for international audiences.
•    Producers who have successfully worked in their national market and who strive to work internationally with European partners. Experience in international co-production is preferable, but not a prerequisite.
Single films projects, documentary series and cross media projects are welcome. Companies can submit applications for up to two projects. For further questions or information, please contact
Christine Hille, phone +49-341-30 864-27, 
hille(at)dok-leipzig.de
 or
Brigid O'Shea, 
oshea(at)dok-leipzig.de
Costs:
The participation costs per project 190,40 Euros (incl. 19% VAT). These costs include one accreditation per project and the participation in all events linked to the Co-Production Meeting for one, max. two participants per project.
The online submission form will be published on 4 June 2012. 
Early deadline for long-term summer vacationers:  30 June 2012
Deadline for the poor rest of us: 1 August 2012