Indian Ceramics Triennale - British Ceramics Biennial | call for ceramics artists from India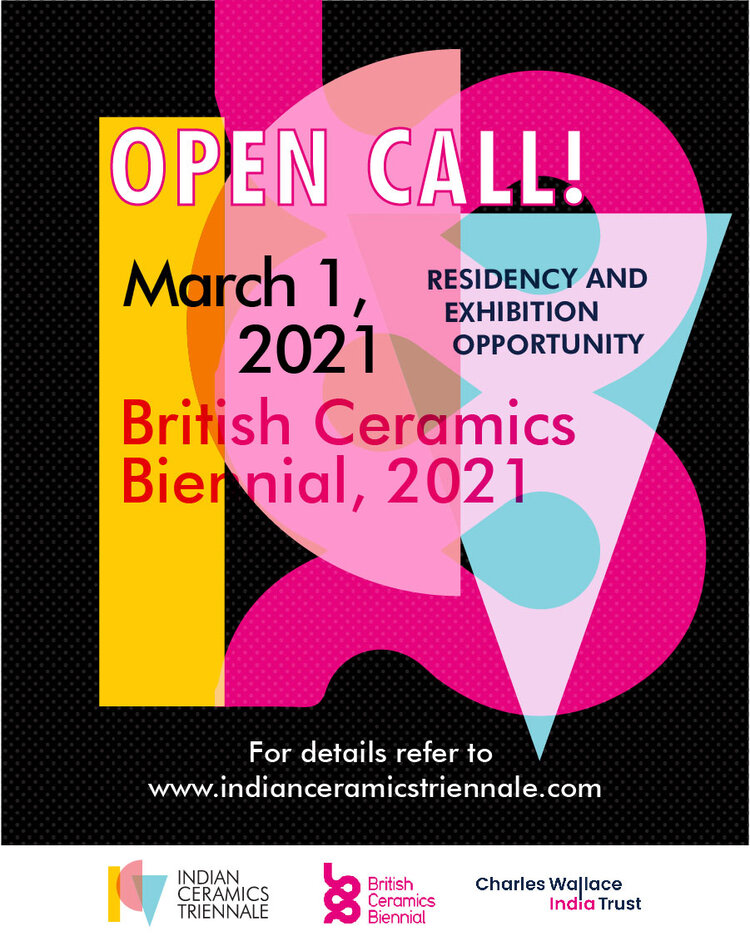 The Indian Ceramics Triennale (ICT) and the British Ceramics Biennial (BCB) invite artists from and based in India to submit an expression of interest to create artwork for the British Ceramics Biennial which will be held at Stoke-on-Trent in September 2021.
We will support one talented artist from India who is interested in engaging with the local context and whose practice explores alternative, experimental, experiential, conceptual or site-specific installation approaches to ceramic art making. Given the present pandemic situation we encourage artists to submit proposals which could include work made partly in India and partly in Stoke, digital or virtual work and/or ephemeral or performative approaches to clay practice.
Depending on the proposal submitted, the Indian artist could be in the UK for upto a period of 6 weeks including time in the run up to and during the festival. The artist will have access to the BCB ceramic workshop/studio at Stoke-on-Trent during that time. The outcome will be exhibited at the Biennial. Simultaneous open studios and public lectures, workshops or demonstrations, will provide for interaction and contribution to the local community and engagement with BCB festival audiences.
The grant and residency in the UK will be facilitated by the British Ceramics Biennial and the Contemporary Clay Foundation with support from the Charles Wallace India Trust.
The BCB will provide the selected artist
1. Access to an equipped ceramics studio
2. Exhibition Installation support
3. Dissemination and interpretation of the artwork produced as a result of the residency
The Contemporary Clay Foundation, presenters of the Indian Ceramics Triennale, in partnership with the Charles Wallace India Trust will provide the selected artist
1. Airfare
2. Living expenses for upto 6 six weeks
3. Material costs
How to apply: Please submit a 500-word expression of interest, outlining briefly your interest and proposal idea and provide upto ten portfolio images of work made within the last five years. Please specify material, dimensions and year of making.
The last date for receiving an expression of interest is March 1st, 2021.
Shortlisted artists will be informed by March 15th, 2021 and detailed proposals will be required by March 31st, 2021.
The selected artist will be announced by April 15th, 2021 and will be expected to arrive in Stoke-on-Trent during August 2021
The Festival launch is on 10th September 2021
The British Ceramics Biennial will run from 11 September – 17 October 2021
IN THE EVENT OF INCREASED TRAVEL AND RESIDENCY RESTRICTIONS DUE TO THE SPREAD OF COVID 19, THE GRANT MAY BE WITHDRAWN FOR THIS YEAR AND DEFERRED TO THE NEXT EDITION OF THE BCB.