I AM KARACHI | open call for design concepts for Peace Walls project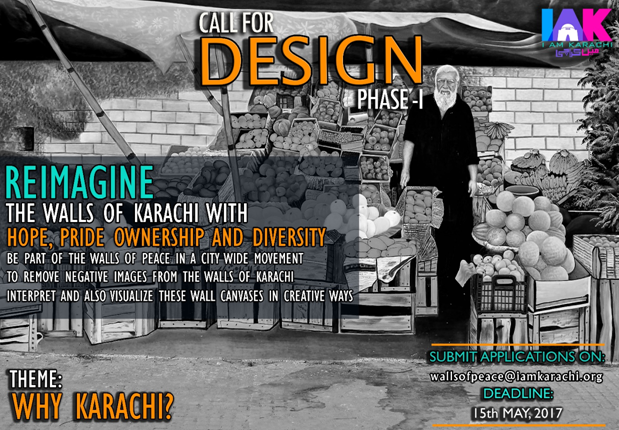 Open call from I AM KARACHI for artists to submit design concepts for transforming public space walls and facades in the city of Karachi, Pakistan and further develop the Peace Walls concept initiated in 2015.
I AM KARACHI currently works on different elements of a robust program where public facades, walls and pathways are being reclaimed. Public facades and walls are being turned into artworks removing hate filled graffiti, extremist messaging and offer a counter narrative. 480 walls depicting cultural, artistic and community themes were painted across some of the conflict areas of Karachi. The government of Karachi is being lobbied to declare these as modern art heritage of Karachi.
IAK plans to launch another 300 walls in 2017, focussing on areas which have been victim to violence and where peace initiatives are sorely needed. IAK will budget a proportion of its funds for the maintenance of the Peace Walls already in place. These projects involve local community artists and students and will generate much interest and increases outreach. Some of the Walls were commissioned with the help of European artists and in fact painted by them in Karachi.
We are launching an open call to ask local and international artists to further this by asking artists to submit concepts suitable for Pakistan with resonance to Karachi.  Currently our Alif ka Qaida (The Urdu alphabet which has a cultural icon or a personality depicted ), our walls depicting Karachi's eminent figures such as Sabeen Mahmud, Parween Rehman , journalists, activists have garnered great interest.
For the next round we invite interests in converting both vertical and horizontal walls into pieces of art and artists not just to paint but to impart their skills to local artists and artisans to enhance their skill sets. The former under our reclaiming public spaces and the latter as the peace walls countering hate narratives.
Project: The Walls of Peace - Why Karachi?
Walls in previously conflict hit areas of the cities, spread out in the 6 districts. Concepts that promote unity, diversity, tolerance, peace. Artwork or concepts are welcomed even from those who are not involved in the actual painting.  All the Walls will be repaired prior to art work start up
The Canvas:
  12 Walls 8x10 feet – This may vary in some cases / VERTICAL walls will be welcomed
Submission
: Maximum of a 4 page submission on outlining `1) Artwork / concept / Design   2) Time line and number of painter(s)   3) Material needed (as accurately as possible) 4) Design and execution costs if any
IAM KARACHI will review all the artwork and concepts. Preference will be given to those adding unique elements to the design.
In the case of vertical walls, artists may be requested to identify walls that they may have considered.
Since artwork is public art the artist must in proposal outline what additional processes or materials will be used to protect the Walls from graffiti, betel /paan juice etc and potential for easy restoration in case of vandalism
All artists will be required to work with young students during the process, teaching them the process or explaining design elements etc. Students may also volunteer in the actual painting under the supervision of the project artist(s)
Submissions to be sent to
wallsofpeace@iamkarachi.org
Deadline for submission of concepts: May 15, 2017
Project Start-up date: May 25, 2017 onwards
Follow
I Am Karachi on Facebook