Hong Kong | M+ Internship Programme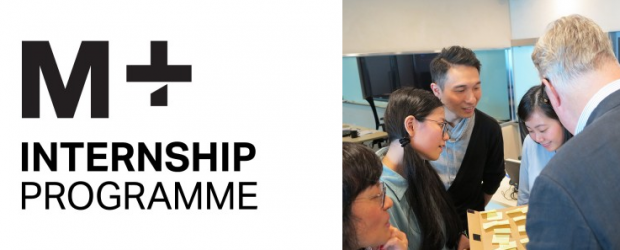 M+ Internship Programme
 in Hong Kong is a unique opportunity for those who are interested in developing a career in the museum field. Internships are available in fields of Curatorial, Registration and Conservation with two intakes per year.
All applicants must have a good command of spoken and written English and Chinese (Cantonese / Mandarin).
Interns will be able to work closely with M+'s professional staff full-time for a period of six months and gain practical and theoretical training in areas such as curatorial practice, museum learning, conservation and registration. Besides working on their specific projects under the supervision of their assigned mentors, the interns will also have the chance to learn from curators and senior members of the team in a series of sharing sessions.
This is a paid internship that runs on a recurring basis, with openings every year for Autumn and Spring. The internship is available in the following areas:
Curatorial
, 
Registration
and
Conservation
.
Internship Schedule:
Autumn Intake 2016

Application period: now until 22 August 2016
Duration: 17 October 2016 to 7 April 2017*
Spring Intake 2017

Application period: now until 15 January 2017
Duration: 6 March 2017 to 15 September 2017*
*Dates slightly negotiable
Curatorial internship
The Curatorial Internships provide hands-on training for people who are interested in gaining curatorial experience in a museum setting. Working under the supervision of one of our curators as their mentor, the interns will be assisting them on upcoming exhibitions, curatorial projects and learning and interpretation programmes.
Registration internship
The Registration Intern will work under the supervision of the Senior Registrar. The internship will provide the intern with the opportunity to develop practical skills in a museum environment and to learn how curatorial and collections professionals are involved in the process of building and maintaining an active collection.
Conservation internship
The Conservation Intern will work under the supervision of a M+ Conservator. The internship will provide the intern with the opportunity to gain an understanding of the role of Conservation within the museum environment and to learn about main issues related to preventative conservation of a growing collection.