Bangalore | Play Practice Artists Residency call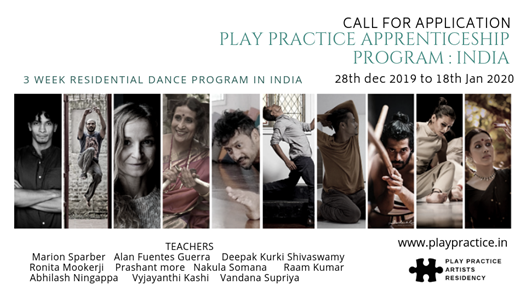 Call for applications for Play Practice Apprenticeship Program, a 3 week intensive dance project where artists from all over the world come together in creative process through daily morning classes as well as intensive afternoon training. It takes place in Bangalore, India from 28th December 2019 to 18th January 2020.
Deadline for applications: 30 September 2019
During the 3 week program the artists have the chance to refine their contemporary dance technique and methodologies of improvisation and choreographic composition. The program offers the possibility to approach different practices, receive new stimuli, develop creativity and learn from internationally experienced teachers and choreographers.
The apprenticeship is not meant to be only an educational program: all students are invited to deepen their own practice, exploring 3 weeks as a period of reflection and research through practice, receiving artistic support from the teachers and from the whole group. Collaborations among students are encouraged, as well as the possibility to share the results of the 3 weeks investigation in the form of a performance at the end of the program.
The Program is located in Bangalore which enjoys a warm climate in December and January, offers cheap nice South Indian food and is nearby mountains.
How to apply / register:
Costs for participants: 590 Euros ( Course fees + Accommodation )