2013 Voies Off Prize | NEW DEADLINE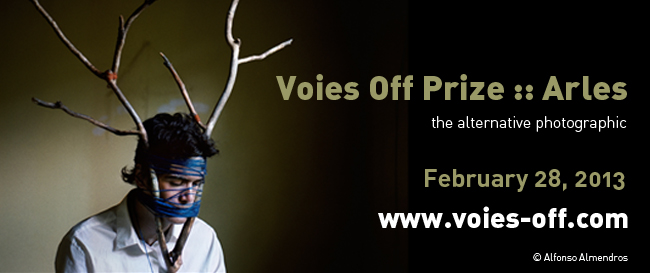 Every July, the Voies Off prize is awarded by a jury of renowned professionals to an artist for the clarity of his/her vision and the high quality of his/her work. It is part of the alternative photographic programme during the Rencontres d'Arles photography festival.
DEADLINE EXTENDED to 28 February 2013
Open call for entries for the 2013 Voies Off Prize
For the past 18 years, Voies Off has offered an alternative approach to emerging contemporary photography, its particularities, its evolutions, and its areas of resistance. Voies Off night projections during the opening week of the Rencontres d'Arles festival (first full week in July) have become an international reference for the discovery of emerging authors and the alternative venue that it creates for international photographic creation.
No restriction regarding age or nationality.
Participants in the Voies Off Prize are: all amateur or professional photographers, artists, associations, collectives, groups, galleries, agencies, or schools... using photography as their medium. A commission will select the applications presenting originality and a personal approach. The works must be organized as a series showing coherent thinking developed through a theme, a personal vision. The main criterion considered by the commission will be a personal and creative vision.
The prize value is 2,500 euros.
The CALL FOR ENTRIES is published online in English, French, German, Italian and Spanish.