from - to
16 Aug 2014 - 16 Nov 2014
TarraWarra Biennial | Australia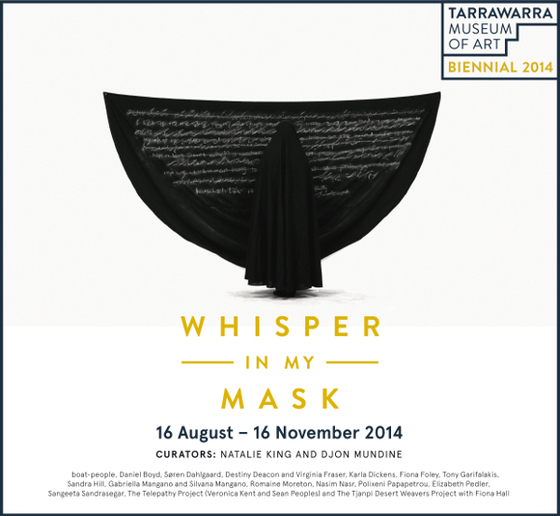 TarraWarra Biennial 2014: Whisper in My Mask
includes works by boat-people, coming from various countries of the world. It runs 16 August - 16 November 2014. The TarraWarra Biennial was inaugurated in 2006 as a signature exhibition to identify new developments in contemporary Australian art practice under an experimental curatorial platform. The
TarraWarra Biennial 2014: Whisper in My Mask
, curated by Natalie King and Djon Mundine, is the fourth iteration of this signature event on the national exhibition calendar of Australia. This year the Biennial includes the work of: boat-people (Safdar Ahmed, Zehra Ahmed, Stephanie Carrick, Dave Gravina, Katie Hepworth, Jiann Hughes, Deborah Kelly, Enda Murray, Pip Shea, Sumugan Sivanesan, Jamil Yamani) (NSW), Daniel Boyd (NSW), Søren Dahlgaard (VIC), Destiny Deacon & Virginia Fraser (VIC), Karla Dickens (NSW), Fiona Foley (QLD), Tony Garifalakis (VIC), Sandra Hill (WA), Gabriella Mangano and Silvana Mangano (VIC), Romaine Moreton (VIC), Nasim Nasr (SA), Polixeni Papapetrou (VIC), Elizabeth Pedler (WA), Sangeeta Sandrasegar (VIC), The Telepathy Project (Veronica Kent and Sean Peoples) (VIC) and The Tjanpi Desert Weavers Project with Fiona Hall (SA/NT/WA). Taking a line from the evocative song 'Art Groupie' (1981) by Grace Jones, the title of this year's Biennial,
Whisper in My Mask
, signals an exploration of masking, secrets and hidden narratives as psychological states: Love me in a picture, Kiss me in a cast, Touch me in a sculpture, Whisper in my mask Watch this beautiful video showing the amazing architecture, design and environment of the museum: https://www.youtube.com/watch?feature=player_detailpage&v=PzU8zez3ZAs
TarraWarra Museum of Art
is Australia's first significant privately funded public art museum, just one hour's drive from Melbourne in Australia's beautiful Yarra Valley.