from - to
04 Sep 2014 - 19 Oct 2014
Survival Kit International Contemporary Art Festivals | Riga and Umeå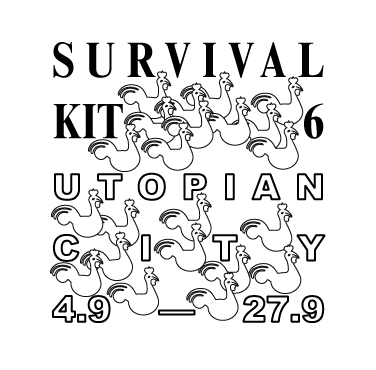 The 6th Survival Kit International Contemporary Art Festival takes place in Rīga 4-27 September 2014. More than 70 participants from 25 countries are taking part in the festival, with the Utopian City as this year's theme.  Survival Kit Festival then runs in Umeå 20 September - 19 October.
This year the festivals forms part of the Rīga 2014 European Capital of Culture  and Umeå 2014 European Capital of Culture programmes.
'Survival Kit' is an annual contemporary art festival organised by the Latvian Centre for Contemporary Art since 2009, when it began as a reaction to the global economic crisis which forced the public to find new survival strategies and encouraged artists to discover new ways of existing.
Survival Kit
is the most noticeable and internationally best-known contemporary art festival in Latvia. Each year, the Festival attracts and involves up to 15,000 visitors. Japanese artist
Ryoji Ikeda
's audio visual concert
datamatics [ver.2.0]
will be held at
Splendid Palace
Cinema on 7th September. The event, organized by the Latvian Centre for Contemporary Art, is part of the
Survival Kit 6
Festival and the
Rīga 2014
programme. In his works, Ryoji Ikeda, one of Japan's most famous electronic music authors, focuses not only on the most characteristic basic features of sound,  but uses light as a substance and mathematics as a method just as successfully. The
datamatics
project is a long-term one, and consists of a number of parts – moving image, sculptural elements, sound and new media technology. The visionarism of artist's works stimulates one's imagination about a future model of the utopian city, and corresponds with this year's "Survival Kit" Festival's theme, the "Utopian city".
Solvita Krese,
curator
of the
Survival Kit 6 Festival
comments on this year's theme,
Utopian City,
as follows: "Looking back at the history of utopian ideas, we end up in the relatively recent past. There we can find surprising modernist visions, the splendour and failure of the dominating ideology, and searches for alternative living spaces and awareness of places through the framework of various subcultures."  ------------------

For the first time, the festival will also take place in Umeå, 2014 European Capital of Culture where it is being organised by Verkligheten, Bildmuseet, Vita Kuben and Umeå Academy of Fine Art.
Survival Kit Festival
Umeå takes place 20 September - 19 October.  It is an international contemporary art festival exploring the theme of local and global survival. The month-long festival is filled with visual art, music, food and film as well as discussions, seminars and lectures by invited artists and activists. The festival runs in collaboration with Survival Kit 6 in Riga. This year, when the two cities are European Culture Capitals, there will be two parallel Survival Kit Festivals, first in Riga followed by Umeå. In the Umeå festival programme, you can find works by several artists from Asia (Japanese artists Ohya Rica and Atsuko Otsuka, Pakistan artist Basir Mahmood and Mark Salvatus from the Philippines) as well as Chto Delat collective from Russia and more great artists from Europe. Around 30 artworks made by international and local artists all have their starting point in the theme of survival. There is a great variety in techniques, aesthetics and conceptual ideas and the artworks range from installation and sculpture to video and performance. Some artworks are site-specific and built on location, others are finished works installed on-site in Umeå. Many of the artists will also be present in person during the festival!