from - to
17 Jul 2013 - 17 Jul 2013
Stuttgart celebrates 100 years of Indian cinema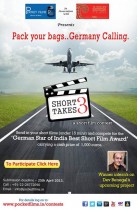 10th Indian Film Festival in Stuttgart, Germany
, will be held from
17th July to 21st July, 2013
to commemorate 100 years of Indian cinema as well as a long and fruitful partnership between twin cities of Stuttgart and Mumbai. The tenth edition of this annual affair will host filmmakers from all over India who will present their current films, and the festival will take a respectful look back at 100 years of Indian cinema. Alongside film shows, other programs include a
'Get-Together'
with representatives of the German film business where guests from India can present to them their latest film projects. A special
'School Day'
will introduce German pupils to Indian cinema. In four 'Tea Talks', experts will inform the audience on exciting topics concerning India. Another highlight is the
Indo-German 'Mobility Forum'
 in which Baden-Württemberg's
Minister of Transport and the Lord Mayor of the city of Stuttgart are expected to attend the event.
Filmbüro
will continue their cooperation with Indian internet platform
'1Takemedia
and together they will
hold a short film competition titled
Take 3
. A distinguished jury will choose the the winning film which will be screened in Stuttgart. Some of the competing feature films at the festival include 
Ustad Hotel
 by Anwar Rasheed, 
Filmistaan
 by Nitin Kakkar, 
Shyamal Uncle Turns Off The Lights
 by Suman Ghosh and 
Shahid
 by Hansal Mehta. The program includes over 60 films with titles including 
Chor Chor Super Chor
 by K. Rajesh, 
Life is Good
by Ananth Narayan Mahadevan, 
Endless Summer
 by Sanjeev Sivan and 
The Rajini Effect
 byNelson and Kuvera Sivalingam. 
Click here for the screening program!