Rome Declaration of the G20 Culture Ministers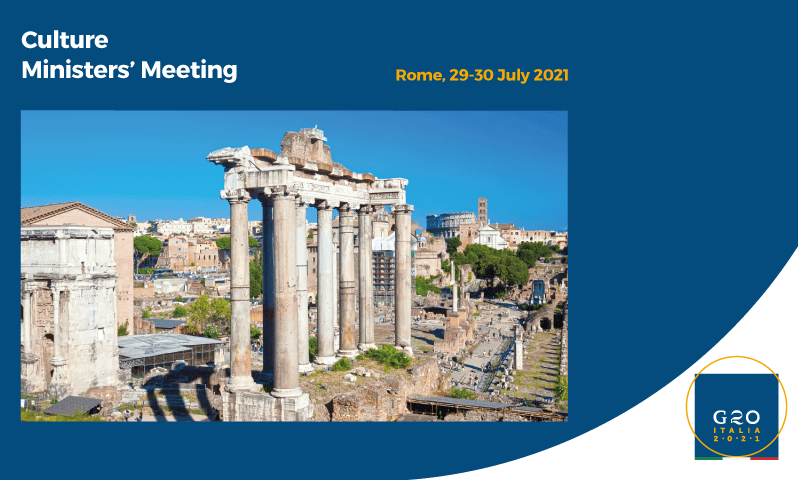 The first #G20 Culture Ministers' Meeting has been held in Rome on 29 and 30 July, 2021, an unprecedented and historic choice by the Italian G20 Presidency. The meeting led to the unanimous adoption of the "Rome Declaration of the G20 Culture Ministers", a 32-point document which inserts the cultural sector within the G20 process, also recognizing its economic value. The G20 also shared the commitment to create special forces to protect cultural heritage at risk in crisis areas.
Download the Declaration here
Five main areas of interest were identified as key topics for the first G20 Culture Ministers meeting:
1) The protection and promotion of culture and creative sectors as engines for sustainable and balanced growth.
2) The protection of cultural heritage against risks, including natural disasters, environmental degradation and climate change, deliberate destruction and looting, illicit trafficking in cultural property.
3) The promotion of digital and technological transformation in the cultural and creative sectors.
4) Building capacity through training to address the complexity of the contemporary world and cultural sector challenges
5) Tackling climate change through culture.
http://www.g20.org/the-g20-culture-ministers-meeting-to...
Italy currently holds the Presidency of the G20 - the full Events Calendar for 2021 can be consulted here
The G20 is the international forum that brings together the world's major economies. Its members account for more than 80% of world GDP, 75% of global trade and 60% of the population of the planet.
The G20 members are: Argentina, Australia, Brazil, Canada, China, France, Germany, Japan, India, Indonesia, Italy, Mexico, Russia, South Africa, Saudi Arabia, South Korea, Turkey, the United Kingdom, the United States, and the European Union. Spain is also invited as a permanent guest.