Qatar funds £8.7m Gulf-archive project at British Library
[caption id="attachment_3785" align="alignleft" width="407" caption="The illuminated headpiece and opening pages with floral borders of a copy of The Canon of Medicine by Ibn Sina, known to Europeans as Avicenna. This copy was made in Persia in 1659"]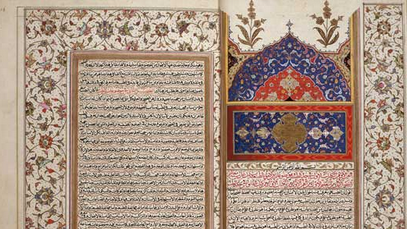 [/caption]
More than half a million pages of Arabic manuscripts and East India Company archives to go online
Qatar is funding a £8.7m project at London's British Library to make around 500,000 pages available online from the archives of the East India Company and the India Office in its collection, and a further 25,000 pages of medieval Arabic manuscripts.
The aim, according to Sheikha Moza bint Nasser, the chairperson of the Qatar Foundation, is "to place Qatar at the centre of Gulf history studies". In a British Library press statement, the institution says that it hopes that the digitisation of maps, photographs, manuscripts and letters will reveal the "forgotten history" of British involvement in the Gulf region. Explanatory text on the materials will also be posted, in both English and Arabic.
The project will involve the creation of 43 jobs. The team will work in partnership with the Qatar National Library.
The project is the result of an understanding agreed by the two British and Qatari libraries in 2010 that includes plans to work with other archives and institutions across Europe and the Gulf. A spokesman for the British Library says: "This is still in scope for later in the programme." Qatar is also a major sponsor of the World Digital Library, a project run by UNESCO and the US Library of Congress, which works to put historical documents online.
[Source] TheArtNewspaper.tv: Qatar funds £8.7m Gulf-archive project at British Library