from - to
16 Sep 2011 - 20 Sep 2011
Pan Pan Theatre | from Ireland to China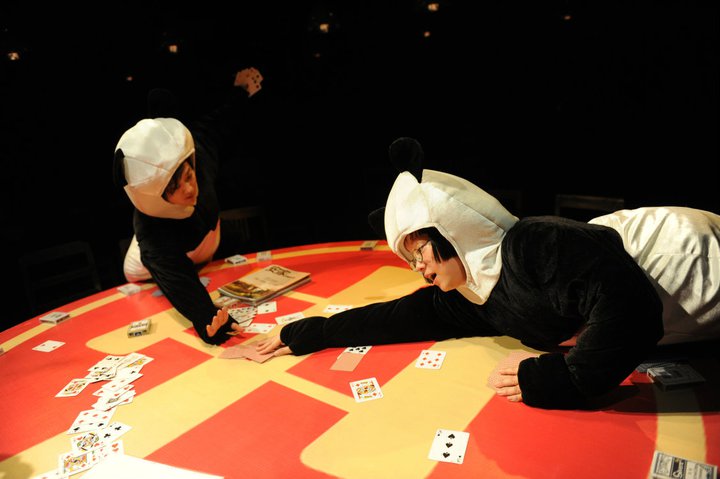 Following Pan Pan's success with Fight The Landlord at the World Expo 2010 in Shanghai as part of the official cultural programme at the Ireland Pavilion and at the Shanghai Dramatic Arts Centre, the show tours to Beijing Oriental Pioneer Theatre (16 – 18 September) and Chengdu International Arts Festival (18 – 20 October).
Fight the Landlord
(Dou Di Zhu) was a performance with a Chinese cast of Generation Y actors. It was the brainchild of Pan Pan's artistic directors Gavin Quinn and Aedín Cosgrove, along with Chinese writer and performer Sun Yue who previously wrote the Chinese version of Pan Pan´s acclaimed The Playboy of the Western World performed in Beijing and Dublin in 2006. Irish Times China correspondent Clifford Coonan reported on the impact of the play in
The Irish Times
and in
The Independent
(London). Dou Di Zhu (Fight the Landlord) is the most popular card game in China. It is a form of Bridge or Poker. In each hand one player, the "landlord" plays alone and the others form a team. The landlord's aim is to be the first to play out all his cards in valid combinations, and the team wins if any one of them manages to play all their cards before the landlord.
Fight the Landlord
is a performance specifically looking at the role of recent history and memory in today´s China. Beneath the sleep of ideology the play finds a present day voice for individual conscience versus silence; the tension between the personal and the political, using the metaphor of the popular card game as our jumping off point. It also investigates the post cultural revolution `Scar´ literature movement and the later `misty´ poetry movement as two contrasting styles for telling stories about contemporary China. Click
here
for clips from the show and an interview with the director and writer.
Fight The Landlord
by Sun Yue Directed by Gavin Quinn Designed by Aedín Cosgrove 16 – 18 September Beijing Oriental Pioneer Theatre 18 – 20 October Chengdu International Arts Festival