from - to
30 Mar 2015 - 24 Apr 2015
Netherlands | First Aid to Cultural Heritage in Times of Crisis | training course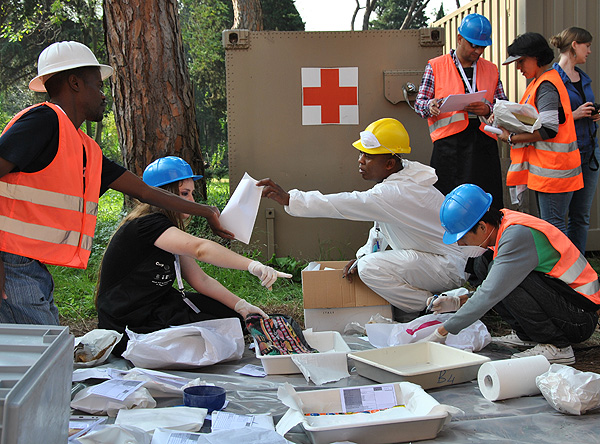 Are you looking to become a cultural heritage first-responder? Apply before 22 September
to join the
First Aid to Cultural Heritage in Times of Crisis training programme,
a 4 week course held in Amsterdam in 2015, a partnership between the Prince Claus Fund, ICCROM, Netherlands National Commission for UNESCO, and Smithsonian. First Aid to Cultural Heritage in Times of Crisis aims to equip participants with necessary skills and knowledge to provide timely response in emergency situations. The training identifies areas of immediate response and aims at coordinated initiatives to provide help between culture and humanitarian sectors. Developing cost effective strategies for risk reduction and disaster preparedness of cultural heritage forms a core component of the training. The hands-on approach to topics such as damage assessment, salvage and first aid measures for sites and collections, helps participants in making informed decisions under pressure. The overall pedagogy relies on participants' experience and knowledge for building a sensitive and inclusive approach to cultural protection during emergency situations. Post-training, participants will be invited to submit proposals to duplicate 'First Aid' training courses in their respective countries and the selected proposals will receive seed grants from the Cultural Emergency Response Programme of the Prince Claus Fund, the Netherlands. The aim will be to use knowledge obtained from this course to strengthen capacities for disaster response to cultural heritage at national or regional level. Set up by the International Centre for the Study of the Preservation and Restoration of Cultural Property, Rome (ICCROM), 
Netherlands National Commission for UNESCO
 and 
Smithsonian Institution
, United States. Dates: 30 March-24 April 2015; four-week course
Application deadline: 22 September 2014
Place: Amsterdam with study visits to other cities in the Netherlands More info on the programme and details on how to apply 
here
Who should apply?
The course invites the participation of professionals working in the fields of cultural heritage and humanitarian assistance. It is aimed at professionals working within a variety of sectors:
Cultural and humanitarian aid organizations
Libraries, museums, archives, sites
Departments of antiquities or archaeology
Religious and community centres, etc.
Military and civil defense (especially those personnel, who have the responsibility of safeguarding cultural heritage during emergency situations)
A maximum of 20 participants will be selected.
Teaching team
The multi-disciplinary and international teaching team will include professionals who have been working in emergency situations for protecting cultural heritage and providing humanitarian assistance.
Working language:
English
Course fee:
€ 900 (Euro)
Travel, accommodation and living expenses
Participants are responsible for their round-trip travel costs to and from Amsterdam (the Netherlands), and for all living expenses. To cover the cost of living, including accommodation, participants should plan for a minimum allowance of approximately 1600 Euro for the entire duration of the course. Candidates are strongly encouraged to seek financial support from sources such as governmental institutions, employers and funding agencies.