from - to
25 Sep 2015 - 25 Oct 2015
Nanjing | new olds design exhibition from Germany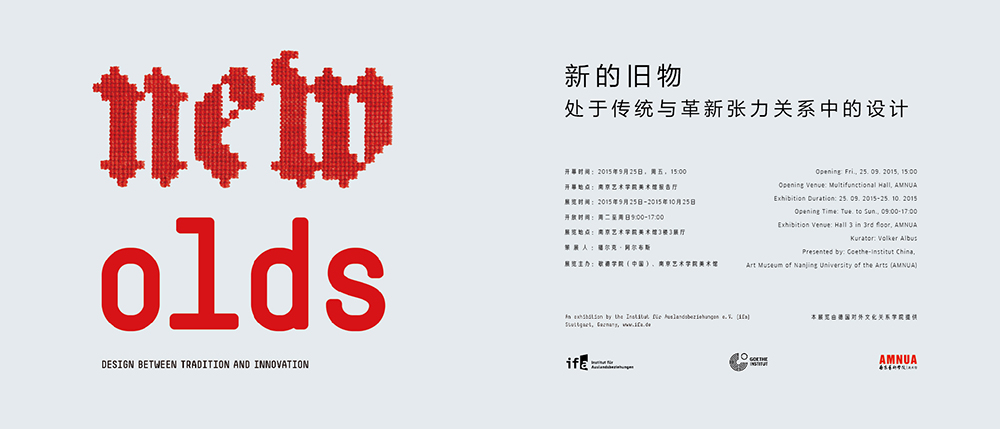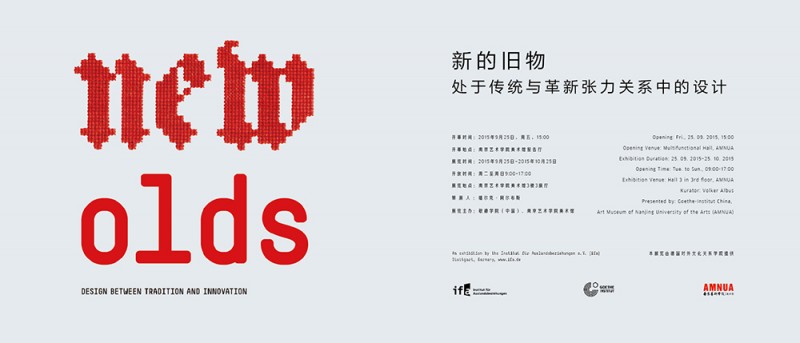 In the context of its new design month initiative, the AMNUA Art Museum of Nanjing University of the Art presents the ifa touring exhibition from Germany
new olds - Design between Tradition and Innovation.
25.09.2015 – 25.10.2015,
Art Museum of Nanjing University of the Art AMNUA,
Nanjing, China Together with curator Volker Albus, the Institut für Auslandsbeziehungen e. V. (ifa) presents 
new olds. Design between Tradition and Innovation
, with sixty exhibits that explore the relationship between tradition and innovation in contemporary design. The variety and topicality of the many approaches are bundled around the themes material, construction, configuration, production, and traditional use. Forty-five designers and design teams from Germany, other European countries and the USA enter here into an intensive dialogue, and the international nature of the show is further emphasised by its world tour with its connections to the local cultures on site. This exhibition looks at aspects of the "new" and the "old" in a range of objects and groups of objects, discusses differences and new combinations, presents trends in recycling and redesign, and looks at the transformation of design classics and traditional ways of using new materials. This exhibition aims to show the international and complex nature of this discourse in contemporary design in three ways. Firstly, we invite the general public to enjoy the visual and sensual presentation of the exhibits. Secondly, the accompanying events and education programme will focus on dialogue in workshops that are tailored to each location of the exhibition tour, and the design experts working there. The third element is documentation of the exhibition in a
blog
, showing the work of local designers exploring issues related to new olds that is presented in the exhibition space or in a special additional show. Documenting all the works that are produced in accompanying events during the entire tour will further facilitate dialogue and the exchange of ideas on contemporary theory and design practice in a variety of nations and cultures. The
new olds
exhibition
has already been seen in Australia and Malaysia. It will travel to Seoul in early 2016: 03.02.2016 – 16.04.2016,
Museum of Art, Seoul National University,
Seoul, South Korea Events in India, Indonesia, Thailand, New Zealand and the Philippines are also mentioned on the new olds blog.