Murakami wins International Catalunya Prize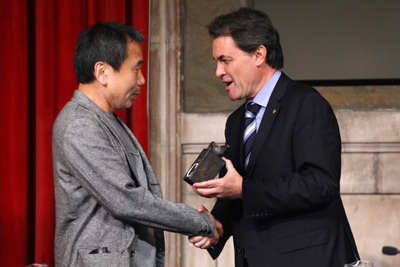 [caption id="attachment_10867" align="alignright" width="400" caption="Artur Mas presents the award to Haruki Murakami"]
[/caption]
Japanese author Haruki Murakami has been awarded the prestigious Premi Internacional Catalunya 2011 at a ceremony in Barcelona.
The jury of the prize decided by absolute majority to award the
23th Premi Internacional Catalunya 2011
to writer 
Haruki Murakami
.
The Premi Internacional Catalunya, awarded by the Generalitat of Catalonia, is endowed with an award of 80,000 euros and the sculpture La clau i la lletra (The key and the Letter) by Antoni Tàpies. It is awarded annually to any person whose creative work has made a significant contribution to the development of cultural, scientific or human values anywhere in the world.
The president of the Generalitat, Artur Mas, presented the award to Murakami during a ceremony at the Palau de la Generalitat in Barcelona on 9th June.
Read more about
Haruki Murakami
Murakami's acceptance speech was widely reported in the international press:
Read report and watch video of award:
NHK World
Read report:
Bangkok Times