from - to
13 Nov 2015 - 29 Nov 2015
Kuala Lumpur | Transactions in the Field


Transactions in the Field is taking place in Kuala Lumpur, with the first Inter-Asia Masterclass on challenging the role of citizen participation through participatory public art, and a public exhibition with lectures and open sessions till 29 November. It is organised by a partnership of independents and institutions from Malaysia, Germany and Japan. The 1st Inter-Asia master class TransActions in the Field~ challenging the role of citizen participation through participatory public art takes place from November 14th to November 26th 2015 in Malaysia. The 12-day residential programme will serve as a place of co-creation and co-intelligence for experienced and newcomer creative practitioners in the interface between art and society to develop and share skills and experiences. The master class will provide the participants with theory and discourse. It will question how we sustain our creative ideas and bring them into reality. It will offer space for interventions, performances and real-life actions. The class will be delivered with methods of Art of Hosting. The master class is about exploring the future of CHANGE-MAKING.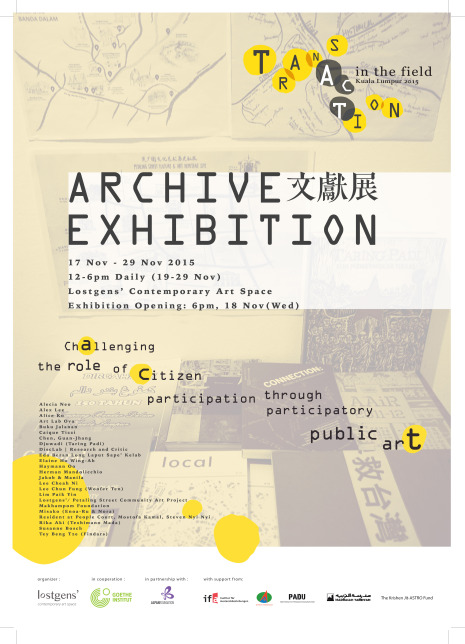 TransActions in the Field will host a number of
participants from various Asian countries and Germany
. The emphasis of the master class is on co-operation and innovation. For this 1st master class, practitioners were directly invited. The master class is hosted by Lostgens' Contemporary Art Space and developed in collaboration and conversation with German artist Susanne Bosch, Yeoh Lian Heng, the Goethe-Institut Malaysia, researcher Herman Bashiron Mendolicchio from Spain and many others.
Read more about the team
The
public programme
runs 17-29 November with an Archive Exhibition, public sharing sessions and public screenings.