from - to
27 Sep 2019 - 24 Nov 2019
Korean International Ceramic Biennale 2019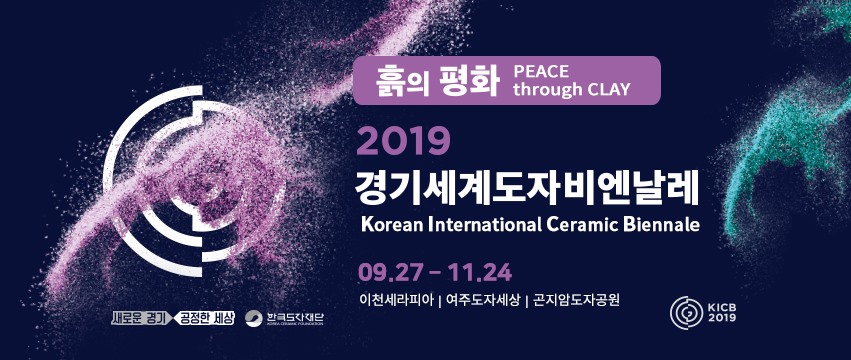 Korean International Ceramic Biennale (KICB) opens in Icheon, Gyeonggi-do province on 27 September and runs to 24 November 2019. The 10th edition of KICB2019 aspires to build a peaceful community of the global village and to connect ceramic art from every corner of the world as one.
Korean International Ceramic Biennale 2019 (KICB 2019) - Peace through Clay
Through art demonstrations and talks with artists, this biennale presents aesthetics of the kind created by understanding and embracing different cultures. It will be a forum that brings diverse cultures together, and it will showcase innovative art and promote cultural exchange by building a new network of artists, the audience, and experts in various fields.
The International Competition of the KICB 2019 did not select individual works; it is instead recognizing artists. As a result, it received a record number of entries: 10,716 works by 1,599 artists from 82 countries.

The KICB 2019 selected 300 notable artists of our time for their experimentation, artistry, and creativity. The Icheon World Ceramic Center presents some 200 works by the forty-two most notable artists from 18 countries among them. Visitors can see ceramic art that addresses a wide range of themes and genres, from works focusing on traditional techniques and functional values to conceptual and epic works, from minimalist works to abstract and lively works, and from objects to installations.
Korea-Denmark Crafts Exchange programs
To celebrate the 60 years of Korea-Denmark diplomatic ties and promote cultural exchange between the two counties, many cultural events involving artists from Korea and Denmark will be held.
Since its beginnings in 2001 as the International Exposition, the Korean International Ceramic Biennale (KICB) has promoted artistry, increased the popular appeal of ceramics, and facilitated the marketing of the ceramic industry's products. It is now the world's only international festival of ceramics and crafts and a forum that hosts major ceramics events for the public.
Artists the world over participate in the KICB, and it offers artists and visitors much to see and do. The programs embrace many different perspectives to help everyone better understand the artistic and academic values of ceramics, which is a common aspect of culture of all mankind, and they help us re-discover the values of world ceramic art and serve as a milestone for ceramic culture and art to move forward.
The biennale has been extremely well received by passionate ceramic artists from all over the world through the years. Each edition has been joined by some 2,000 artists from about 70 countries, and visited by more than 1.1 million people.