ICCROM: CollAsia Course - Conserving Textiles and Costumes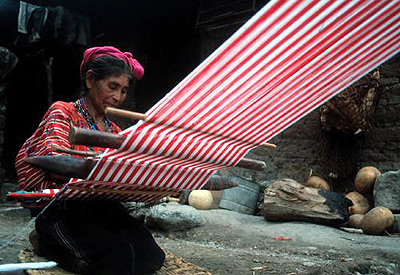 The International Centre for the Study of the Preservation and Restoration of Cultural Property (ICCROM) and the Casa K'ojom (La Antigua, Guatemala), with the support of the Korean Cultural Heritage Administration (CHA), the Ministry of Culture and Sports of Guatemala and the Museo Ixchel del Traje Indígena, are organising a course entitled
"Conserving Textiles and Costumes in Southeast Asian Collections"
. Held in the context of the
CollAsia programme
for the conservation of collections in Southeast Asia, the course will take place in
Antigua, Guatemala, between 24 October and 11 November 2016
. Through the encounter between heritage professionals from different countries and regions,
the course will promote new knowledge sources, skills and expertise exchange, innovation, creativity and collaboration
. Strengthening collective self-reliance and developing the capacity to identify conservation challenges and strategies together will improve the capacity of professionals to care for textile heritage in different institutional contexts. The course site of Guatemala is internationally renowned for the richness for its historical and contemporary heritage collections and practices.  It is
an excellent location for exploring and assessing different preservation strategies and techniques
. Textiles and costumes are a vibrant part of the heritage collections in Southeast Asia. They attest to sophisticated traditional knowledge systems and complex worldwide trade relations, and have been intimately linked to issues of identity through time. Both historical collections and living heritage communities are custodians of ethnic, religious, military, historic and other collections of textiles and costumes. A
shared understanding of material characteristics, manufacturing techniques, design elements, past and current uses, and accompanying social practices
are the basis of sound conservation strategies. Over this three-week event, participants in the CollAsia course "Conserving Textiles and Costumes"
will explore the materials and techniques used in making textiles and costumes, the messages contained in the objects and their significance, the deterioration processes and storage and exhibition concerns that lead to long-term conservation strategies
. Participants will also be encouraged to share traditional practices in their countries and to develop further research into innovative solutions to various conservation issues. The combined impact of new skills, international exposure and a broad variety of didactic tools will lead to sustainable conservation practices for textile and costume collections in different countries. The course comprises
lectures and interactive sessions
, both in the classroom and by means of practical exercises in and around Antigua, Guatemala.
The working language will be English
. The workshop will have
up to 16 participants, with at least 3 years of hands-on experience with cultural heritage in museums, historic houses, religious communities and other specialised collections
. The course team will consist of specialists from the ICCROM network and beyond.
Scholarships
covering round-trip travel, accommodation and meals during the workshop will be available. Applications should be sent
by 27 June 2016
. For
additional information
, please visit
http://www.iccrom.org/collasia-course-conserving-textiles-and-costumes-guatemala-2/