from - to
05 Feb 2016 - 08 Feb 2016
Dhaka Art Summit 2016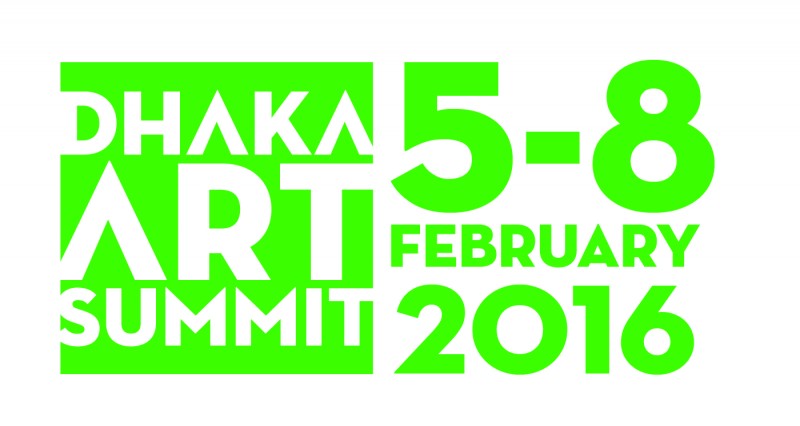 Save the Date!  The Samdani Art Foundation announced details of the 3rd 
Dhaka Art Summit
 2016, which will take place from 5 to 8 February 2016 at the Bangladesh Shilpakala Academy.  The programme includes multiple collaborations with organisations and artists in Asia and Europe. Dhaka Art Summit takes place at the Bangladesh Shilpakala Academy in partnership with the country's national academy of fine and performing arts. The third edition of the bi-annual event will include major projects by internationally acclaimed artists including 
Lynda Benglis, Simryn Gill, Haroon Mirza
, and
 Dayanita Singh
; as well some of the most exciting emerging names from the region such as 
Ayesha Sultana, Waqas Khan
, 
Maryam Jafri
, 
Nge Lay
, and
 Munem Wasif
. For the first time, the event will also incorporate architecture, experimental writing and exhibitions of historical works from the 20th century as part of a new expanded programme. Once more, over 50 leading thinkers from South Asia and beyond will take part in a talks programme that will address art initiatives off the center in South Asia among other timely topics. While it is difficult for Indians to obtain visas to Pakistan (and vice versa), Bangladesh provides an ideal hub for regional thinkers to come together in person within the region. Led by the foundation's Artistic Director, 
Diana Campbell Betancourt, 
the curatorial team for the 2016 edition brings together representatives from international museums including Tate Modern, Centre Pompidou and the Kunsthalle Zurich with a range of South Asian partners. For Dhaka Art Summit 2016, this artistic team has devised a rich survey of artists, architects, filmmakers and writers from across South Asia.
Around 200 artists will participate
from countries including Afghanistan, Bangladesh, India, the Maldives, Myanmar, Nepal, Pakistan and Sri Lanka as well as those from the South Asian diaspora. The artists will be presented in tightly curated thematic exhibitions that break from the traditional country survey model. Building on Dhaka's rich festival tradition, DAS 2016 will be a space that celebrates cosmopolitan histories and looks at very wide definitions of what a South Asia-focused art festival means. Artists and filmmakers from the 2016 programme such as 
Merchant Ivory, Lynda Benglis, Gaganendranath Tagore, John Giorno, Lida Abdul, Krishna Reddy, Rashid Choudhury
, and 
Lionel Wendt
 exemplify the longstanding dialogue between South Asia and the rest of the world.
Selected guest-curated exhibitions 
(More exhibitions to be announced in October 2015)
Nada Raza
, assistant curator at Tate Modern, will present an exhibition exploring the influence of sci-fi and retro-futurism in South Asia including artists from across Pakistan, India, Bangladesh and Sri Lanka. Raza will draw on historical material including one of the first science fiction stories in the Bengali language, written by the scientist 
J.C. Bose
 in 1896, as well as a 1920s watercolour by 
Gaganendranath Tagore
, which looks skyward to imagine a cosmological vortex in the heavens. These motifs of astral journeys and alien encounters will be traced through different generations of South Asian artists who experienced the wonder and hubris of the space age from a slightly different tilt on the universe.
Aurelien Lemonier
, curator of architecture at Centre Pompidou, will present an exhibition on Bangladeshi architecture from 1947 to 2017 as part of a wider research project for the Centre Pompidou. This will focus on the life and work of 
Muzharul Islam
 (1923–2012), the Bangladeshi architect who called upon 
Louis Kahn
 to devise the landmark Dhaka parliament building. The exhibition will also trace the legacy of 
Muzharul Islam
 for third generation Bangladeshi architects working today, drawing attention to a diverse range of contemporary architecture practice.
Nikhil Chopra
 and 
Madhavi Gore
 will curate the performance programme that explores time and duration. 
Yasmin Jahan Nupur, Kabir Ahmed Masum Chisty
, and several other important figures to the performance art scene from South Asia will feature in this exhibition.
Shanay Jhaveri
 will curate a film programme that will explore ideas of location and cross-cultural experience. A documentary made by 
Merchant Ivory
 for the BBC in 1972 on the writer-scholar 
Nirad Chaudhari
 (1897–1999) will form the cornerstone for the programme. Filmed in London and Oxford, 
Adventures of a Brown Man in Search of Civilisation, 
records a fascinating individual born in Mymensing (now Bangladesh) who witnessed the rise and fall of empire and courted a distinctly "cosmopolitan" reality for himself.
New initiatives: Rewind section and Asia Art Archive
Building on the Summit's identity as a research platform, the third edition will include several new programme strands reflecting on historical moments in South Asia before in the 20th Century up to the 1980s. A non-commercial Rewind section, highlighting practices of South Asian artists active before 1980, will be advised by a team including Beth Citron (Rubin Museum), Sabih Ahmed (Asia Art Archive) and Amara Antilla (Guggenheim). Highlights will include a presentation of rarely-seen before works by Sri Lankan photographer Lionel Wendt (1900 - 1944), early works by Nalini Malani from the late 1960s and early 1970s, as well as under exhibited Bangladeshi masters such as SM Sultan, Rashid Choudhury and Saifuddin Ahmed. Many of the works in Rewind will be exhibited for the first time in over 20 years. An exceptional example is Akbar Padamsee's much discussed, but previously believed to be lost film "Events in a Cloud Chamber" from early 1970s will debut in a restored version in collaboration with Ashim Ahluwalia. The Samdani Art Foundation also announces a new partnership with Asia Art Archive (AAA) to support the development of scholarship on recent art from Bangladesh will present the first stage of a planned bibliography of Bengali language writing on art. AAA will have a dedicated booth at the summit to highlight its work across the South Asian region.
Samdani Art Award
The Samdani Art Foundation has again partnered with the Delfina Foundation to award an outstanding young Bangladeshi artist the opportunity to attend a three-month residency at the Delfina Foundation in London as part of the bi-annual Samdani Art Award. Ten finalists will be selected from an open call for applications, and their work will be exhibited in a show curated by Daniel Baumann (Director, Kunsthalle Zurich) in collaboration with Pro Helvetia-Swiss Arts Council.
Critical writing ensembles 
Drawing on the rich literary traditions in the region and the need for experimental writing platforms, Dhaka Art Summit will also feature a new section of 
Critical Writing Ensembles
 supported by 
ProHelvetia Swiss Arts Council,
 which will provide a platform to explore forms of experimental writing in South Asia and the rest of the world. This section will include contributions by leading writers and curators such as 
Quinn Latimer, Chus Martinez, Maria Lind, Sharmini Pereira, Yin Ker, Devika Singh, Aveek Sen, Carlos Basualdo
, and 12 other leading writers from the region. This program is led by 
Katya Garcia Anton
 (Director of Office for Contemporary Art Norway) with 
Diana Campbell Betancourt
 and 
Take on Art, India