China's booming museums sector | uncertain times ahead?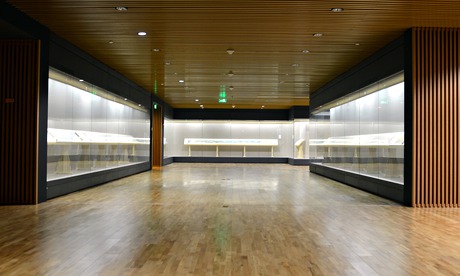 A recent Guardian Culture Professionals blog looks at the growth of new museums in China and raises questions about how successful they are in reaching the public. On a recent visit to Shanghai, freelance journalist Jo Caird observed sky-high running costs, low attendance figures and issues with access for several new high profile contemporary art museums, possibly reflecting trends across China.
The hotel concierge had heard of neither of the museums I intended to visit that day. Not all that surprising, perhaps, until you consider the scale of the institutions in question. One was the Long Museum, a 10,000 square metre private art gallery owned by one of the biggest art collecting couples in China. The other was the Power Station of Art (PSA), Shanghai's first public museum of contemporary art, named for the enormous former industrial building it occupies on the banks of the Huangpu river.
Both were about to celebrate their first birthdays at the time of my visit to Shanghai in September last year and both were eerily quiet. No one likes an overcrowded gallery, of course, but there's definitely something off-putting about being in a museum alone.
The Long Museum and the PSA are part of an extraordinary wave of high profile public and private museum and gallery building taking place not just in Shanghai but across China. The last couple of years in Shanghai alone have seen the relocation of the
China Art Museum
; the launch of the Yuz Museum; and the relocation of the
Shanghai Himalayas Museum
(another private institution) to an enormous new space in Pudong. In March, these institutions will be joined by another – larger – branch of the Long Museum, opening in a newly developed area of the city known as the Xuhui Riverside.
It's a thrilling time for the Chinese museum sector, but it's also an uncertain one. Attendance figures for both the Long Museum and PSA have been disappointing so far. The PSA attracted only 250,000 visitors in 2013, while the picture at the Long Museum is grimmer still. Wang Wei, the museum's chief curator, and her husband, billionaire businessman Liu Yiqian, spend over £1m on running costs annually and paid out around £30m in capital expenses, but welcomed only 50,000 people through their doors last year. The couple have deep pockets, but it's hard to see how such a project is sustainable in the long-term, especially given their soon-to-open second space has set them back a further £30m.
[...] Read
full article here
Image: The Long Museum is a 10,000 square metre private art gallery owned by one of the biggest art collecting couples in China. Photograph: Long Museum