from - to
28 Jun 2021 - 28 Jun 2021
Beyond Resilience? Resetting international cultural relations [online event]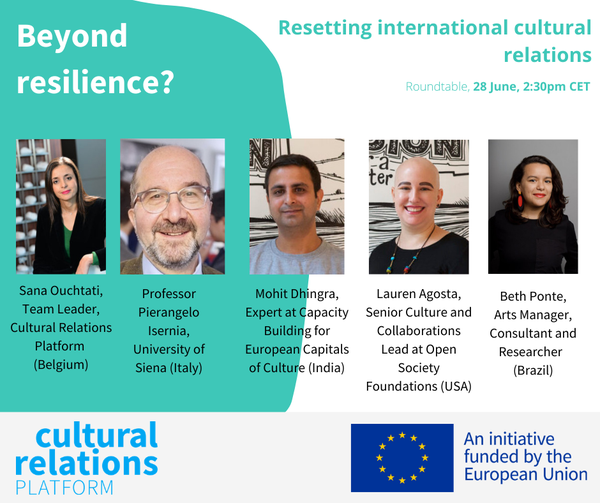 Register for the Cultural Relations Platform online roundtable 'Beyond resilience? Resetting international cultural relations' on 28 June at 14.30h CET.
How has Covid-19 impacted the cultural and creative sectors around the world? Our research found that the pandemic is exacerbating and accelerating pre-existing trends in cultural relations nationally, transnationally and internationally, and that structural vulnerabilities leave the cultural and creative sector particularly susceptible to shocks.
In such a challenging context, do we need to think beyond resilience? How do we move forward and what role can international cultural relations play?
Hear more about our research and share your ideas and experiences with other cultural practitioners at our roundtable on 28 June, 2:30 – 4pm CET.R
There will also be an exclusive opportunity to find out more about our training programme for international cultural leaders, the Global Cultural Relations Programme, which will open for applications in July.
SPEAKERS
The roundtable will include:
Sana Ouchtati, Team Leader at the Cultural Relations Platform (Brussels, Belgium)
Professor Pierangelo Isernia, University of Siena, who co-authored the research (Siena, Italy)
And alumni of the Global Cultural Leadership Programme, the Cultural Relations Platform's flagship training programme:
Lauren Agosta, Senior Culture and Collaborations Lead at Open Society Foundations (New York, United States)
Mohit Dhingra, Expert at Capacity Building for European Capitals of Culture (Delhi, India)
Beth Ponte, Arts Manager, Consultant and Researcher (Salvador, Brazil)
We encourage you to share your questions, ideas and experiences during the event.