Recalibrating the Compass: Rethinking Cultural Diplomacy in Times of Global Crisis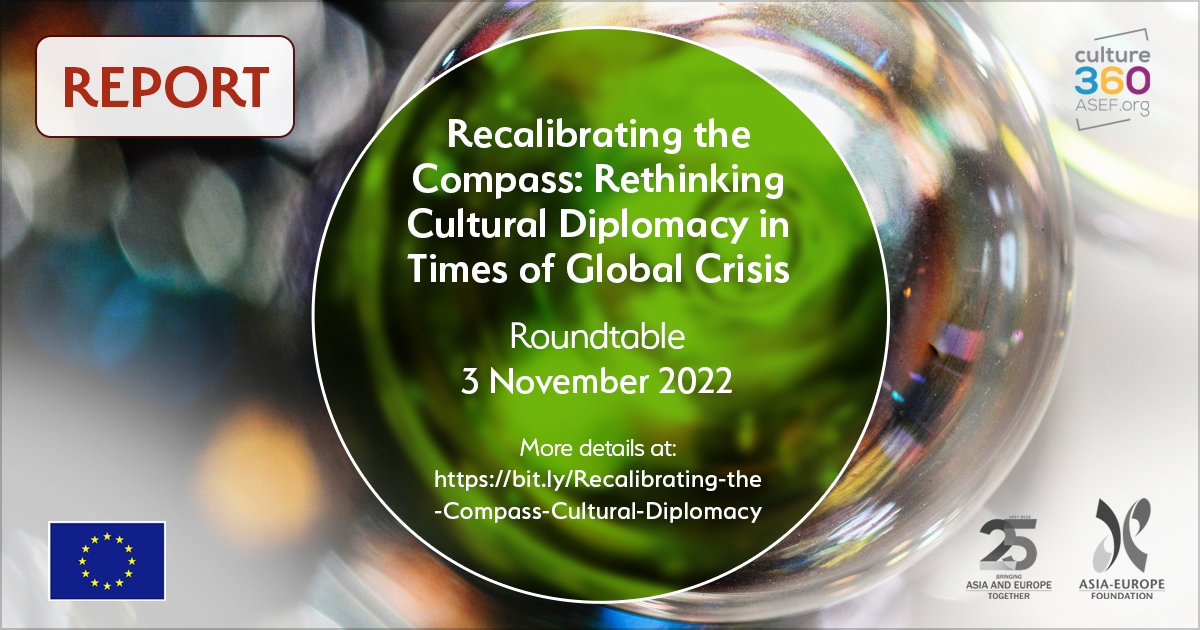 In 2022, on the occasion of the 25th anniversary of the Asia-Europe Foundation (ASEF) and following the global impact of the Covid-19 pandemic, ASEF has launched a series of online roundtables entitled Recalibrating the Compass: What Future for Asia-Europe Cultural Relations? The series aimed to examine current challenges and identify ways to develop new, more relevant and resilient forms of support for Asia-Europe cultural collaboration.
The fifth roundtable, Recalibrating the Compass: Cultural Diplomacy in Times of Global Crisis, took place on 3 November, gathering 19 experts from across Asia and Europe. Facilitated by Katelijn Verstraete (independent arts and cultural consultant, based in Brussels and Singapore) and Kathy Rowland (co-founder and managing editor, Arts Equator, Singapore and Malaysia), it served as the closing to the set of thematic roundtables. The session particularly focused on the availability of spaces for true cultural relations between Asia and Europe, the values, practices and policies that should enable such exchanges to take place, and what role ASEF could play in this context.
Given the breadth of the issues raised by the discussion, and their connections with topics addressed in previous debates, before the session the ASEF team and the facilitators of this roundtable identified a set of five cross-cutting themes. Participants were then invited to fill in an online survey to choose the main areas of focus for the discussion, taking into consideration where they thought ASEF could better contribute. As a result of this exercise, the subsequent discussion focused primarily on diversity and inclusion in cultural relations, as well as on inequalities (including social and economic inequalities within societies, as well as unequal global relations), while also touching on other transversal themes, including the climate crisis, access to culture, and sustainability of practices. This short report outlines some of the main ideas and proposals discussed during the session.
Acknowledging a problematic context
Reflecting on inclusion, diversity and inequalities in Asia-Europe cultural relations led participants to identify a set of contextual issues that shape relations and should be acknowledged when devising new approaches. Several of these contextual issues arise as constraints to fostering balanced cultural relations: they include imbalances in resources and in the ability of societies to engage in connections across borders, inequalities in access to information, an increasing focus on domestic affairs at the expense of international engagement, and difficulties in finding a common ground between and within societies that is not homogenising but rather values diversity. Inequalities underpin the experience of other challenges, such as the climate crisis, and should therefore be taken into account in all strategies and policies, e.g. by integrating the climate justice lens.
Alongside this problematic context, some participants also stressed that the Covid-19 crisis has provided an opportunity to rethink cross-border cultural relations. While the forms of cultural diplomacy before Covid tended to reproduce and reinforce inequalities, the disruption generated by the crisis, and the broadening of spaces for digital engagement that have arisen as a result, open up to opportunities for more balanced relations. There is also an increasing acknowledgement that cultural diplomacy should adopt approaches of what is frequently described as 'cultural relations' – that is, exchanges based on transparent goals, respect, intercultural understanding, mutuality and trust building, thus generating a two-way street that enables learning and mutual cultural enrichment.
Once this complex context has been acknowledged, what priority areas for action can be identified? Participants in the discussion connected their concerns with proposals for addressing the gaps, which are presented below. In some cases, this also involved identifying the areas or 'entry points' where ASEF could best contribute.
Fostering the effective implementation of more balanced approaches to cultural relations
The proposals for cultural relations that address inequalities and are based on mutuality and trust building, as described above, echo similar contributions made in the last few years. Participants identified several recent initiatives which provide guidance on how to rethink cultural relations (e.g. Salzburg Global Seminar's Statement on the Future of Cultural Diplomacy; EUNIC's work on fair collaboration in cultural relations; work done under the EU-funded projects Global Cultural Relations Programme and SHIFT; ASEAN's Culture of Prevention approach). In this respect, without neglecting the need to continuing to reflect and raise awareness, some participants suggested it was time to work on making these principles effective on the ground.
In a related vein, some participants argued that, while frequently there are very interesting concepts and approaches at the policy level, local and national infrastructures and capacities are often weak and cannot take advantage of top-level ideas. In this respect, a focus on training and capacity development may be necessary, so that new ideas can effectively be put into practice.
Enabling common spaces that are otherwise missing
As outlined earlier, there is a frequent perception that spaces enabling cultural pluralism and intercultural understanding are shrinking. Facing this requires first, organisations and individuals that are aware of differences and inequalities, able to demonstrate sensitivity in diverse cultural contexts and willing to foster common spaces of encounter. Regional and cross-regional organisations, like ASEF (as well as other cross-national networks, initiatives, etc), have the ability to understand diverse contexts and different starting points. As a result, they can also advocate new ways of working, and communicate to national governments and funders the support that is needed to balance out inequalities. Multilateral spaces can also provide a setting where sensitive issues that are more difficult to discuss at national level can be addressed
More specifically, in the context of Asia-Europe relations, ASEF can help to amplify the narratives and conversations emerging regionally in Asia, which tend to be less visible. Connecting the global with the regional, national and local levels, networked organisations have the potential to ensure that general principles which may occasionally be stripped of their meaning and become abstract (e.g. access, inclusion, diversity) remain relevant by referring to specific challenges on the ground.
Contributing to the decolonisation of mindsets and ways of doing
Connected to several of the points raised earlier, participants recalled that global cultural relations frequently remain shaped by colonial frameworks, which need to be acknowledged and transformed. This could involve, among other things, ensuring that the training of agents involved in cultural cooperation (e.g. diplomats, managers, funders, artists) increasingly combines knowledge and approaches from different regions, and broadening the opportunities for projects that aim to open new perspectives to cross-regional relations.
Advocating and fostering a more plural ecosystem
New forms of cultural relations involve accepting the existence, and desirability, of an ecosystem of stakeholders engaging in cross-border activity. Cultural relations here go far beyond national governments and international organisations, and rely on civil society organisations, professionals, companies, universities, networks, and several other agents. While this is increasingly recognised in theory, much remains to be done in practice.
In this respect, some participants suggested that ASEF, in alliance with others in Asia, Europe and beyond, could help to foster an alternative understanding of what cultural diplomacy and cultural relations mean today. This could involve specific actions in areas like supporting civil society networking, as well as other opportunities that help to bring new people into the conversation, with the ultimate goal of advocating new forms of cultural relations.
Communicating and sharing stories
Stories can embody both commonality across groups and societies, and the diversity of lives. Furthermore, stories travel particularly well through art, and can serve to stress that which makes us all human. As a result, stories, when shared, hold potential in cultural relations. This is an area that ASEF has frequently addressed, by helping to disseminate projects and experiences, and one that several participants argued should remain central. By collecting and sharing stories, as well as by stressing the learnings that derive from them, ASEF can enable communities and organisations to better know one another. This serves to illustrate the importance of fostering learning and sharing within organisations, as well as outwards.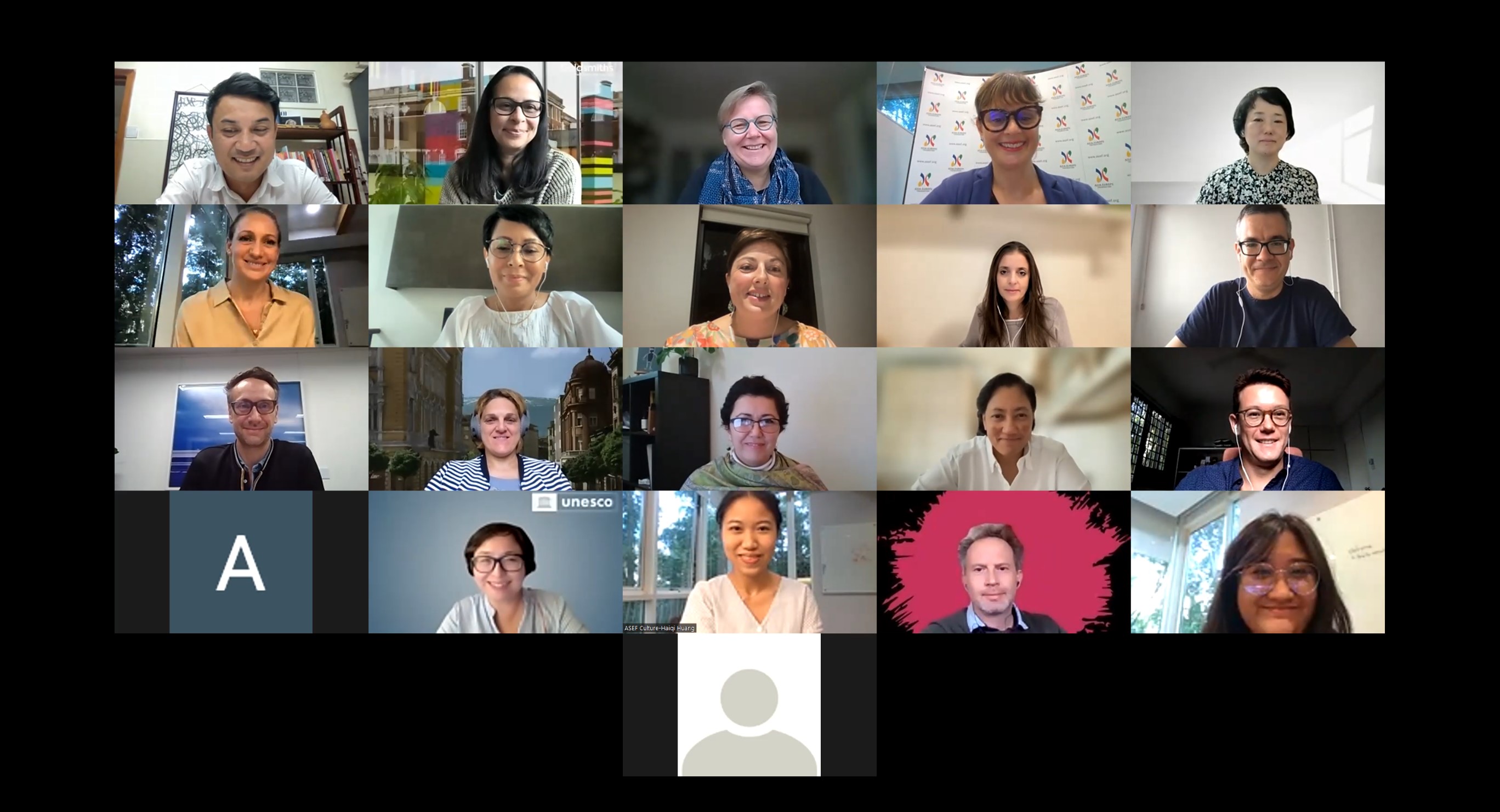 The 5th roundtable in the Recalibrating the Compass series illustrated yet again the wealth of ideas existing among cultural organisations in Asia and Europe as well as the willingness to rethink cultural relations in the post-Covid context, and how ASEF could best play a role in this setting. The series will culminate in a public panel in early 2023, where findings and recommendations from all sessions will be shared and discussed. 
For more information about the series: https://bit.ly/Recalibrating-the-Compass 
For the highlights of Roundtable #5: https://bit.ly/Recalibrating-the-Compass-Cultural-Diplomacy
ASEF would like to thank the following participants for their valuable contributions to Roundtable #5 – Rethinking Cultural Diplomacy in Times of Global Crisis:
---
Katelijn VERSTRAETE - FACILITATOR
Cultural Consultant
Independent
(Singapore/Belgium) 
Kathy ROWLAND - FACILITATOR
Co-founder & Managing Editor
Arts Equator
(Singapore/Malaysia)

Ben HAMPE
Project Director
ASEAN Foundation
(Singapore)

Carla FIGUEIRA
Director
Goldsmiths, University of London
(Portugal/UK)

Damien HELLY
Co-founder & Chair
culture Solutions
(France/Belgium)

Eliza DAWSON
Executive Director
Res Artis
(Australia)

Joseph MITCHELL
Director of International Engagement
Australia Council for the Arts
(Australia)

Magdalena MORENO
Executive Director
IFACCA - International Federation of Arts Councils and Culture Agencies
(Australia/Chile)
Manami YUASA
Regional Arts Director, East Asia
British Council
(Japan)

Moe CHIBA
Programme Specialist
for Culture
UNESCO - United Nations Educational, Scientific and Cultural Organization
(Indonesia)

Natalie HENNEDIGE
Festival Director
SIFA - Singapore International Festival of Arts
(Singapore)

Phloeun PRIM
Executive Director
CLA - Cambodian Living Arts
(Cambodia)

Pierre JALLADEAU
Head of Cinema, Media and Digital for South East Asia
French Embassy in Singapore
(France/Singapore)
Sana OUCHTATI
International Cultural Relations Expert
Independent
(Belgium)
Tsveta ANDREEVA
Public Policy Manager
ECF – European Cultural Fund
(Netherlands)
Valentina RICCARDI - ASEF
Acting Director
Asia-Europe Foundation (ASEF)
Culture Department

---
Powered by Froala Editor