Re-interpreting the role of Muzium & Galeri Tuanku Fauziah | Malaysia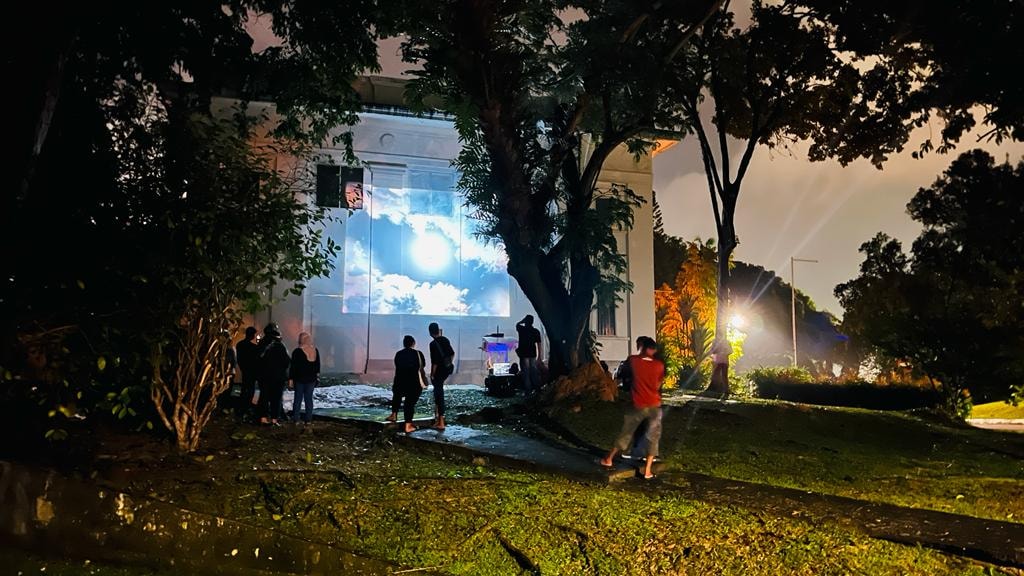 In addition to playing its role in preserving and showcasing cultural or natural heritage, museums play a crucial role in facilitating public education and cultural participation among visitors. With the limitation on physical visits and onsite activities because of the COVID-19 pandemic, museums around the world strive to adopt alternative approaches to offer new visiting experience and adapting to the new normal. Based on the case study of Muzium & Galeri Tuanku Fauziah (MGTF), USM Penang, this article discusses MGTF's reinterpretation of its role as a venue beyond exhibition spaces, towards promoting social well-being through community engagement programmes.
"I am pursuing my effort in repositioning the role of MGTF as a museum, which I have underlined since I was appointed as director in 2005. After taking a break in 2013, I was reappointed in 2021. Since my first appointment, I constantly look into the existing limitation of the museum. I research ways forward to restructure towards breaking through from the conventional format and definition of a museum, which is commonly known as a space for preserving and displaying backdated contents. While the world is changing alongside with the development of new technologies and emerging movements, if a museum remains into the past, it will soon become not relevant to the contemporary society," said Associate Professor Hasnul Jamal Saidon, the Director of MGTF.
Under Hasnul's directorship, MGTF embarked on a journey of transformation, from a venue for display to a venue for experiences. "I redefined my role as the experience designer or director. Instead of curating an exhibition, I lead my team to create experiences to engage visitors towards generating positive awareness in life. It is like making a film or theatrical production, involves creating narratives or stories to engage people to experience. Looking at the physical structure of the museum, I see spaces with potential setting to create meaningful experiences for visitors.
I imagine, relate and predict the emotions and reactions that might transpire within the space among the different audiences. I worked out the narratives and created scenes. Then progressively, I built up contents for experiences with the support from applicable tools, mediums and technologies."
In curating the experiential visits, Hasnul emphasises the subject of love and compassion towards the nature, history and, importantly, the human relationship, as the binding force to generate positive thematic awareness through active engagement and immersive experiences. "We can't just curate exciting events without meaningful substance. As a museum in a public university with limited funding, we made the progressive transformation within the available budget. My key challenge is to inspire a change of conventional mindset among people around me. I conveyed my thoughts and ideas through visuals such as sketches and drawings to enable visualisation. Prior to engage our visitors, I first need to get my co-workers excited with what we are creating."
Through extensive research and field studies, Hasnul identified a list of paradigm shifts he has observed, experienced, tested, studied, written, published and presented for the past 20 years (see Table 1). "Shifting from curator-centred to audience-centred while curating our recent exhibition – Project Monyet, we include our audiences' stories as part of the growing contents throughout the exhibition period. Instead of resonating solely in the curator's voice, the exhibition echoing each unique voice of visitors during their participative engagement onsite."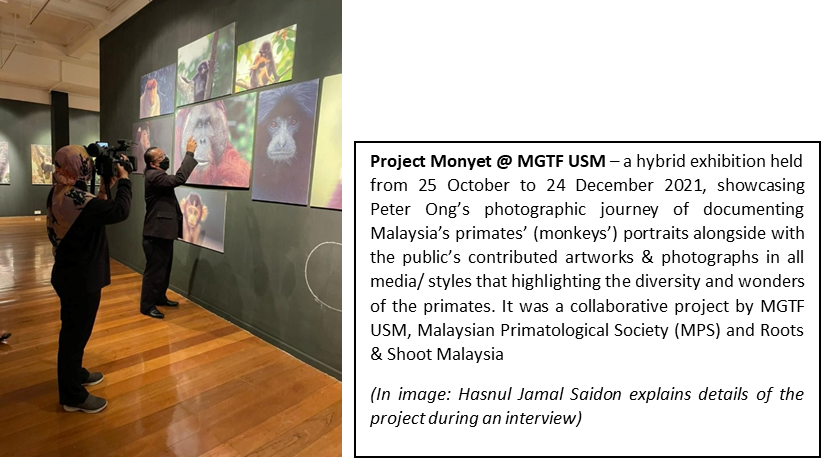 Visitors' creations @ Studio Monyet were displayed as growing contents of exhibition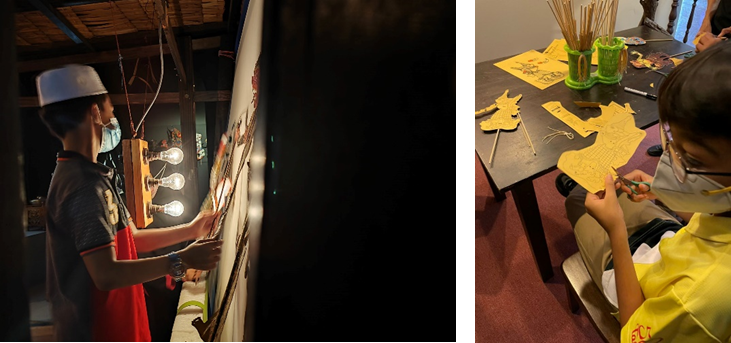 Visitors learn and experience making and presenting Wayang Kulit Monyet
Besides exhibitions, MGTF has taken an active role in engaging visitors through relevant curatorial possibilities for sharing of knowledge and experiences. "AL-HILAL @ MGTF USM is a long-term project where we attempt to curate sharing of stories and narratives through projection mapping, 3D holography and live streaming on the exterior open wall of the museum. We set up the required hardware and get ready to collaborate with potential partners or community groups towards co-creating the immersive and engaging learning experiences, especially about our shared global concerns. "AL-HILAL" means "the crescent moon" in Arabic. It implies the notions of reflected or borrowed light, illumination, time, cycle, rotation, and phases. While projecting on the open wall, it reflects the importance of seeking for signs in Nature and the Universe as our living guides during darkness." Being the curator of the project, Hasnul's goal is to create engaging platforms, with technological support, for scientists or researchers to tell stories of their findings to the public. "Instead of merely presenting their findings in academic conferences or journal articles, it is crucial for them to share their findings with the relevant public, who might have direct concern on the topics too," Hasnul comments.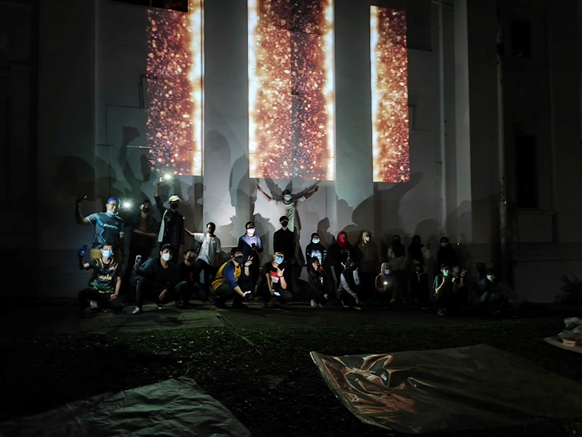 MGTF's crew and friends tested out the setup for AL-HILAL @ the exterior of MGTF
In April 2021, MGTF tailored Open Wall co-creation program for USM students, staffs and their family members in supporting them to deal with stress during the pandemic. "Adopting open and organic approach, with no specific requirement, any participating groups, with or without art background, was welcomed to book the wall at our gallery space, to paint their masterpieces together with their spouse, kids, family members, course mates or colleagues. Each painted artwork was exhibited for 3 weeks before it was erased and repainted by another participating group. Ultimately, we attempt to create a community platform that enables identification and verification of issues, problems, questions, possibilities and potential of artistic creativity through public art engagement, towards fostering mental health and social harmony."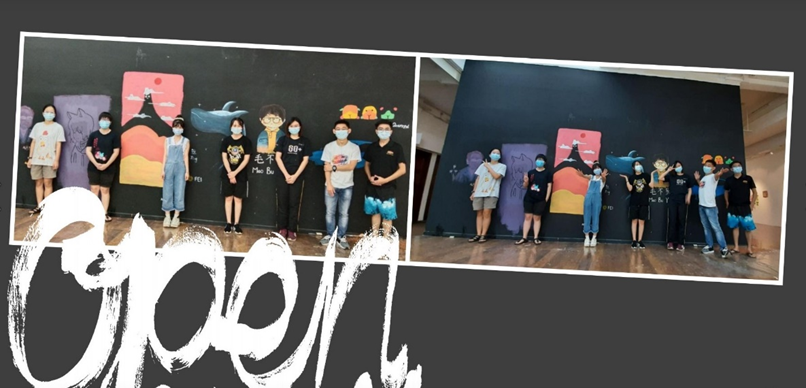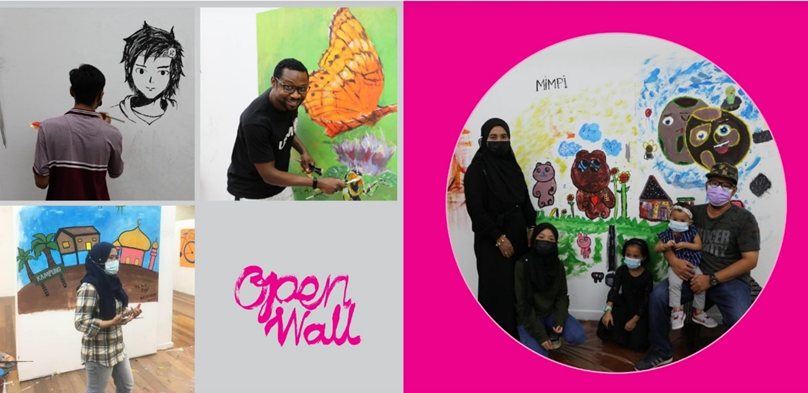 Open Wall @ MGTF - the walls were turned into open canvas for creative emotional expressions by visitors


Open Wall Virtual Online Exhibition
*All images provided by MGTF USM
LINK to Museum: https://mgtf.usm.my/index.php/en/
About the Author
Nicole Chang completed her PhD research about the contribution of arts in local economic development. She looks into the role of visual arts in the public domain towards place-making a creative city. She investigates the role of stakeholders' partnership in driving art ecosystem towards making an art city / creative city as an urban development strategy. Currently, Nicole is a freelance consultant, actively involved in project-based writing and research about local place-based initiatives in creative place-making for urban revitalisation and place branding. She writes and research for both the private commissioned projects as well as government funded projects.