By people / In cities : Kuala Lumpur | interview with Sze Ying Goh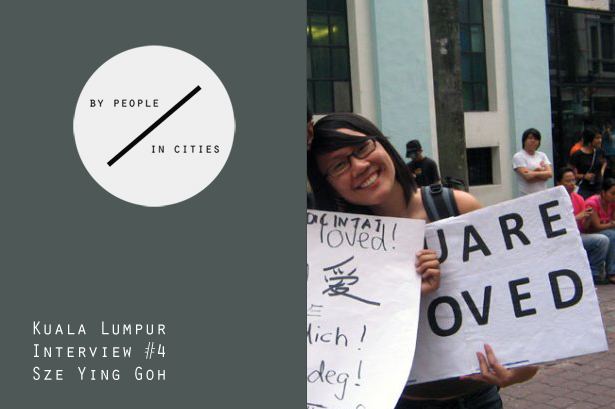 This week, in the series By People / In Cities, the fourth Kuala Lumpur-based interview introduces Sze Ying Goh, the mind behind #BetterKL, a campaign that encourages KL-ites to contribute and bring positive changes to their city through actions based on creativity, policy, and education amongst other things.
Q: If you had to pick a word that captures KL, what would it be?
Potential.
Q: How would you describe KL's creative community?
There are various collectives that make up the larger creative sector in Kuala Lumpur, however they work rather independently in their own niches -- often fragmented by discipline, language, locality and social class. The local creative scene, to a great extent, still exists in silos, emphasizing exclusivity rather than diversity. As such, growth in creative and cultural industries is more organic and not deliberate or sustained.
Slowly though, the mindset is changing. People are seeing the value in cross-disciplinary collaborations and engagements. Partly because consumers are more exposed, therefore are demanding more challenging works and diverse content. In addition, the political and social landscape -- often an intertwining factor that influences creative works -- opens up opportunities for and encourages creative and cultural workers to work together.
In my opinion, the overlap of interests and expertise is crucial to introduce fresh perspectives for newer, bolder and more relevant works in the creative sector in our city.
Q: Who are the latest movers and shakers?
From my observation, the 'old guard' consisting of mostly bureaucratic actors in corporate or state-appointed institutions are more resistant to change, oft preferring to stick to traditional tried and tested practices and methodologies. It is therefore harder to imagine innovation coming from them. In the last 4 years or so, there is a slight departure but we have yet to see successful outcomes.
Hence, those least influenced by institutional constraints and conventions are the likeliest to effect a significant change in re-shaping and re-imagining our city. Individuals and groups who are willing to take risks and proactive but strategic steps to challenge business and creative norms. I see a large segment of these people coming from grassroots communities, social enterprises, local businesses and creative industries that are most attuned to the current political and cultural trends. In addition, educators -- who were previously or are still involved in the creative sector -- play an understated role of producing the new crop of young creatives.
They are urban activists advocating grassroots practices for the betterment of our urban environment -- in fields of culture, creativity, heritage, environment, social justice et. al.
Q: What are the biggest challenges for culture and creativity in KL? 
Increasing access and awareness.
I go back to my initial remark about the fragmented state of our creative community. As long as creative 'silos' exist, it will be difficult for other creatives and consumers to access content, share and exchange knowledge, and derive awareness from that experience or engagement. When access is problematic, it becomes a challenge to mobilise the various collectives and sustain a momentum for good ideas and policies to reach a critical mass. The creative community ought to constantly find ways to work together.
Encouraging a culture of constructive criticism.
The other challenge is to nurture a culture open to constructive criticism. There is a distinction between ranting and critiquing constructively. The former assumes a detached view of a problem and no responsibility or interest to be part of the solution. The latter requires a sense of ownership, to work together towards a solution. I do not see any other means to improve the quality of cultural and creative content in our city. Creativity is not an insular process.
Q: Is the future bright for KL?
Yes, most definitely. Despite all the challenges identified, there is a healthy, growing culture of producing and creating good work led by the creative community. As long as this culture is sustained, the future remains bright. Coupled with newly formed policies (hopefully, well thought through) and a surge in urban activism, I truly hope this will lead to more integrated and formalised structures to facilitate a sustainable growth in the creative sector.
A better Kuala Lumpur is possible, if not certain.
Sze Ying Goh is a visual designer and the mind behind #BetterKL, a campaign that explores new possibilities for Kuala Lumpur. Its aim is to redefine the intangible factors of a city: its character, its flavour, its desirability, its lovability.
Read more:
Kuala Lumpur city profile
Interview with Grey Yeoh, designer and arts manager at the British Council Malaysia
Interview with Vishal J. Singh, design and architecture consultant
Interview with Michelle Alice Tan, advocate on design for social change
—
By people / In cities is a series of articles and interviews that aims to enhance the understanding of art and culture in Southeast and East Asia through individual stories and perspectives including artists, cultural practitioners, and policy makers from the following 6 cities: Bangkok, Jogjakarta, Kuala Lumpur, Phnom Penh, Hong Kong and Singapore.