Growing-up through film – an interview with Rodica Buzoianu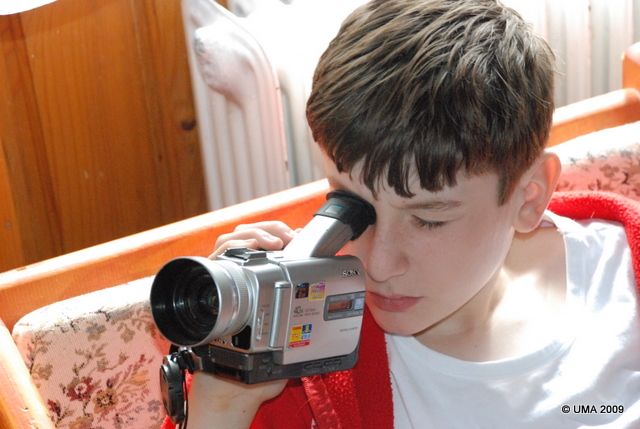 "Children are often telling us so many true facts we, as grown-ups, are not able to see anymore. In addition to this, every child is honestly very opened to the world and they treat what they perceive with directly, even if the world wasn't too kind to them lately." Rodica Buzoianu
Rodica Buzoianu came to understand children having the strong believe they could create stories, they could tell stories using the language of film and film making. She started this idea with the help of a little team of supporters: professors at University of Theatre and Film in Bucharest, film producers, directors, screenwriters and so on and so forth.
She gave the concept and created the project
One Minute of Adolescence
– workshop for children and teenagers from unfavored social categories in Romania to benefit from the tools film making was able to give them: think about what you care most, tell the story, act on your own movie, edit it, etc.
From 2005, the project grew in number of workshops, partnerships, supporters and friends, among the past workshop participants who came to study at universities and in fact were given the right to dream more about what they want to do with their life. Therefore, we discussed with Rodica Buzoianu, the creator and coordinator of this project, in order to find out more about its path and mechanism.
Florentina Bratfanof -  Who initiated this project? Where did the idea come from?
Rodica Buzoianu  - Everything started during a meeting between a film and theatre director,
Anca Berlogea,
another director and professor at the Theatre and Film University in Bucharest,
Elisabeta Bostan
and I, working back then as doctor at disintoxication department for a hospital in Bucharest. Each of us already had a specific background and experience working with children and youngsters, the element that united us being the conviction film is an universal valuable language and can become a very important tool of educating, communicating and transformation.
Then we organized very quick ourselves, being also very enthusiastic about this: in 2005 we started with the film conference and workshop
Facing Children,
when we combined film screenings with debates of some NGOs very active in the domain of protection and education of children, in the presence of opinion leaders from the press and cinema world. Following the model of workshops developed theoneminutesjr from Amsterdam we then created and realized the workshops where the children are involved and create one minute films. The children came from social unfavored categories in Romania or from cultural minorities.
Florentina Bratfanof -  Please tell us some of the feedbacks you had from children and members of the team during those years.
Rodica Buzoianu - This can be a continuous reply because I'm still receiving feedbacks from children that are now teenagers…students to some university….that want to help me do another workshop they could be involved. Basically, they all say, and when I say they I'm referring to participants and also to the artistic team involved [movie directors, editors, etc.] that being in these workshops has changed their live. This is because we created a cell during the workshop in which they let themselves believe they can do anything, besides learning how to make a short movie. Their universe became larger, with more substance, they discovered they can dream and realize they dreams. Little by little and step by step.
I continue to keep contact with most of the participants. I know what they become, what are their problems now, I try to advise them properly and I'm always happy when they achieve something.
Florentina Bratfanof - How many workshops did you manage to organize? Please tell us some numbers and some info about various
Rodica Buzoianu - Here you have: 19 workshops were organized in Romania, 12 different Romanian towns hosted the project, Target groups were children and teenagers from cultural minorities or children at risk, 400  teenagers and youngsters expressed themselves through film, 270 one minute films, including animation films, are  online on
www.uma.ro
,
www.theoneminutesjr.org
and
www.strangerfestival.com
. We also did An annual one minute - film contest "UmaFilmFest" (categories: Best world film, Inside-out, Selfportrait). Some of the films have participated in International Film Festivals: theoneminutesjr, Stranger festival and JVC Festival in Tokyo
Rodica Buzoianu continues to coordinate workshops in 2011, planning different groups of children, aiming different categories in Romania.
One can find more information about the goals and the programme on:
http://www.uma.ro/en/
Films can be viewed at this section:
http://www.uma.ro/en/index.php?page=filme1_2009
Photos from various locations:
http://picasaweb.google.com/umafilm
Interview by Florentina Bratfanof