Back to the Future: Imagining together the next generation of cultural policy platforms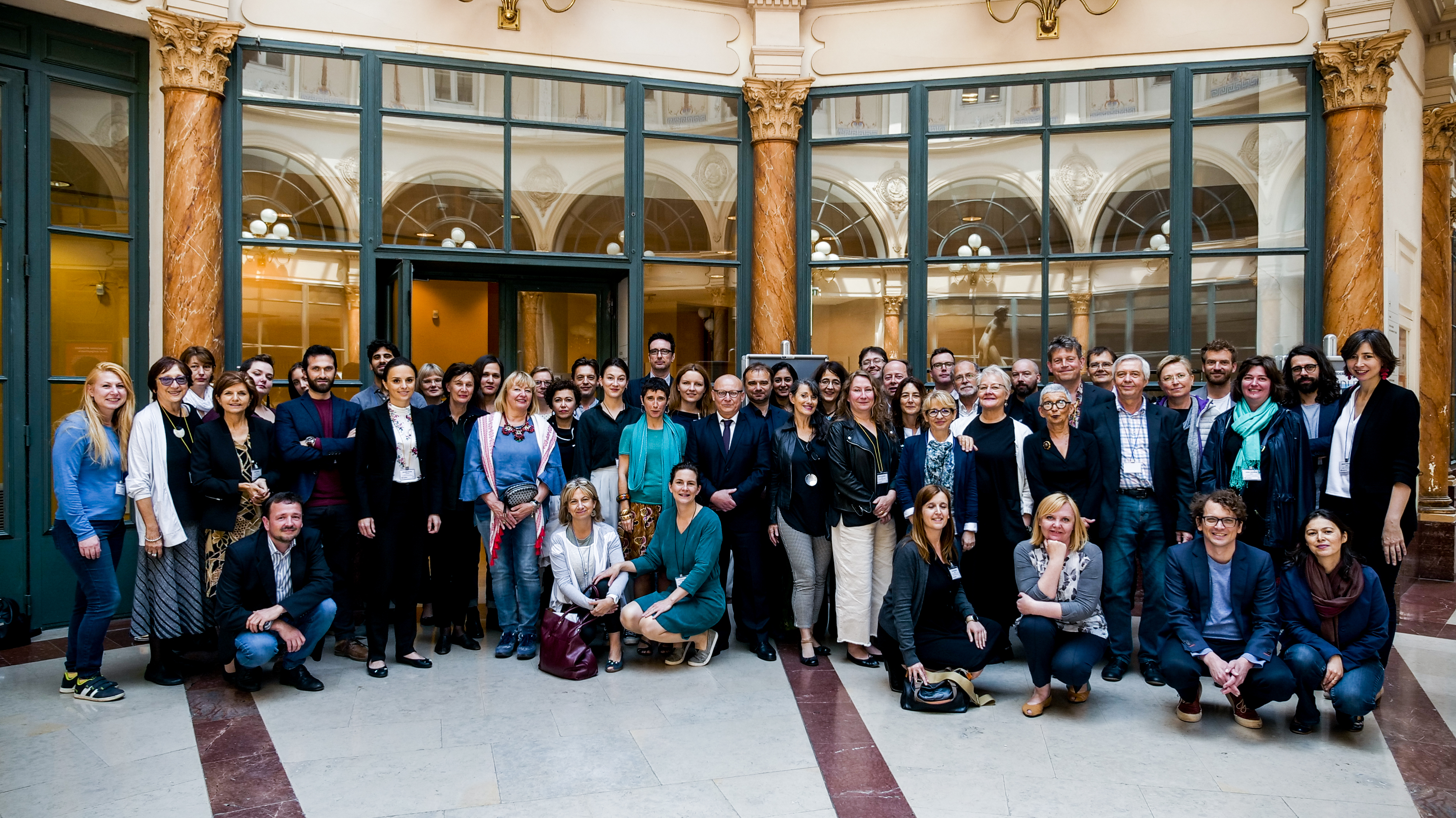 Assembly group picture at the Institut national d'histoire de l'art in Paris, France
Image courtesy: Compendium of Cultural Policies and Trends' Association
(c) Bogdan Palici
The 2nd Assembly of the Association Compendium of Cultural Policies and Trends took place in Paris, 5-6 June 2019, hosted by the French Ministry of Culture under the motto "Imagining Cultural Policy Future". It gathered a quite diversified group of European Compendium members, authors and partners, amongst representatives from ASEF (stakeholder member) and IFACCA.
The Assembly's outlook towards the future was kicked off by a lively debate on the end of cultural policy in view of the affirmed moral crisis of current models; continued with a discussion on what means and how legitimate are sustainability demands in regards to artistic and cultural projects, and finally, took a walk down on memory lane, trying to identify lessons for the future from the past by inviting long-standing Compendium authors to revisit the last 10 years of cultural policy in between the East and West of Europe. Throughout the discussions claims for a new activist research agenda to bring back social justice into cultural policy making were voiced. On the other side, the potential of the sector to contribute to the environmental sustainability agenda was demonstrated by a myriad of stimulating projects. In times of growing global public awareness, climate becomes cultural and not only a political and scientific remit.
Beyond the plenary discussions, the group held its formal General Assembly and conveyed in parallel training and working sessions, most notably the "round table on opportunities for international collaboration". The purpose was to share priorities and main topics of interest of the varied participant's countries and/or organisations regarding cultural policy exchange and international cooperation. Indeed the know-how of the Compendium has inspired other experiences beyond Europe, such as: the discontinued WorldCP platform (International Database of Cultural Policies) promoted by IFACCA, the Asian country profiles supported by ASEF and those from the Arab region, under the coordination of Al Mawred Al Thaqafy (Culture Resource).
Despite the complexity of transferring and adapting the Compendium model to other cultural landscapes and logics and consequently of producing worldwide comparable data, the interest clearly remains vivid among the stakeholders to continue this global exchange and mutual learning. They are aware that nowadays challenges have a global scale and therefore require joint proposals for issues such as radicalism, nationalism – what is the definition of culture in such contexts?-, migrations, social exclusion, climate change, digitisation, cultural diplomacy, arts education, cultural participation and democracy. Furthermore, they want to hear about their peers, to know what is going on in other countries, get insights on new policy trends and case studies, and thus have access to trustful updated information.
Based on their own experience, participants argued that policy makers claim for hands on, easy to read, comparative data, including tables, graphs and other visuals. Access to this flexible information is crucial to influence and fundament cultural policy decisions. Moreover, many also claimed that beyond academics and policy-makers, the Compendium can be a very useful platform for non-specialists, spanning the sector various professionals but also more generic audiences. Moreover in the current digital age, the new generations navigate information in surprising new manners, using mostly mobile devices at a very fast pace, which demands innovative strategies to produce and communicate contents in meaningful ways.
In this respect, a potential wider outreach of the Compendium was essentially highlighted. The round table participants expressed their belief and willingness to make good use of the Compendium, beyond a mere information archive, as a relevant tool to:
· establish new relations and collaborations with like-minded organisations across-borders;
· serve as a basis for diverse conversations between experts, policy-makers and the overall cultural and creative sector, from research and information challenges to major trends affecting societies and cultural policy;
· build the capacity of professionals regarding cultural policy making and research;
· monitor, inform advocacy and act as intermediary that allows a level playing field for countries with difficult political circumstances.
This feedback comes timely in a moment in which the Compendium is going through a considerable organisational change and it has been also re-thinking its methodological structure and communication tools. On one side, voices clearly point out to the opportunity to pay attention to a wider range of target audiences and the consequent need to involve users in the conception and display of information so that contents are relevant and suitable for the new digital environment. Besides, the versatility and richness of Compendium as a pool of resources and know how – including contents and authors – was acclaimed and various complementary missions and purposes were stressed. Undeniably the Compendium has a large role to play in the global arena for the sake of cultural policy research, monitoring, capacity building and dissemination. However, the challenge lies on the necessity to find the right balance in between the Compendium prestigious long-term structured quality content and the current digital demands for faster more straightforward yet reliable information.
--------
Cristina Farinha is a cultural and creative policy expert and the Compendium author for Portugal.
The Compendium is a web-based information and monitoring system of national cultural policies that was created in 1998 by the Council of Europe and jointly implemented with ERICArts – European Institute for Comparative Cultural Research. It became an independent multi-stakeholders association in 2018.
A complete summary of all the Assembly sessions is available here: https://www.culturalpolicies.net/down/Report%20Compendium%20Assembly%202019%20Paris.pdf