ASEF Unplugged – Kuala Lumpur "Why Do Our Proposals Get Rejected?" | Key messages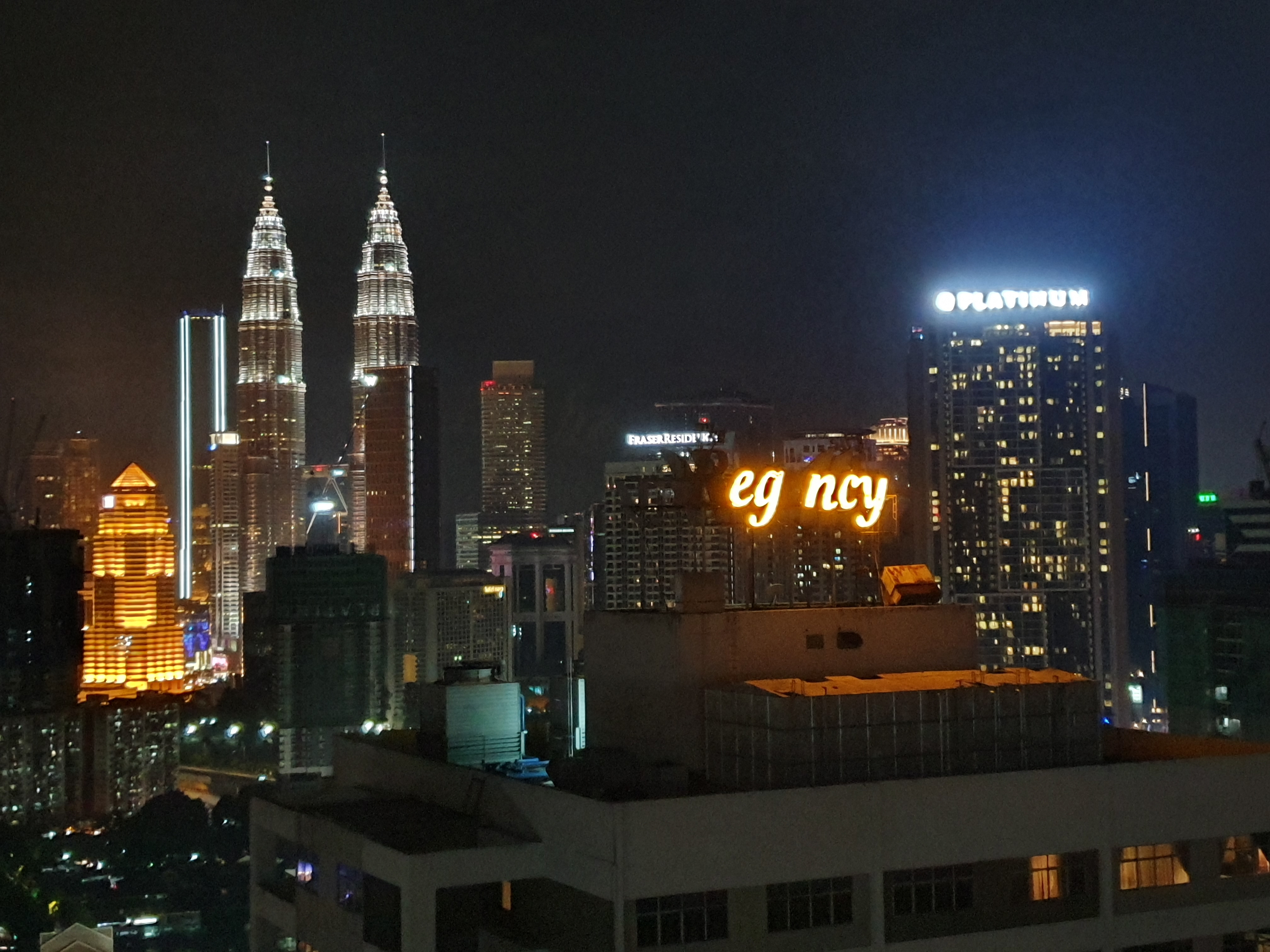 Why do grant proposals get rejected? What do funders look out for in applications? Is there a way to package an application to increase success rates? To answer these burning questions, the Asia-Europe Foundation (ASEF) and Five Arts Centre gathered 7 managers of grant programmes from major funding organisations operating in Malaysia for an afternoon of casual conversation with over 50 artists and cultural practitioners at the ASEF Unplugged-Kuala Lumpur at KOTAK Five Arts Centre on 9 March 2019. The conversation was organised in the lead up to the 8th World Summit on Arts and Culture organised by the International Federation of Arts Councils and Culture Agencies (IFACCA) and The National Department for Culture and Arts (JKKN), Ministry of Tourism, Arts and Culture, Malaysia (JKKN). The 7 speakers were representatives from ASEF, the British Council, Goethe Institut, the Japan Foundation Kuala Lumpur, Yayasan Sime Darby, INXO Productions and Cambodian Living Arts (CLA).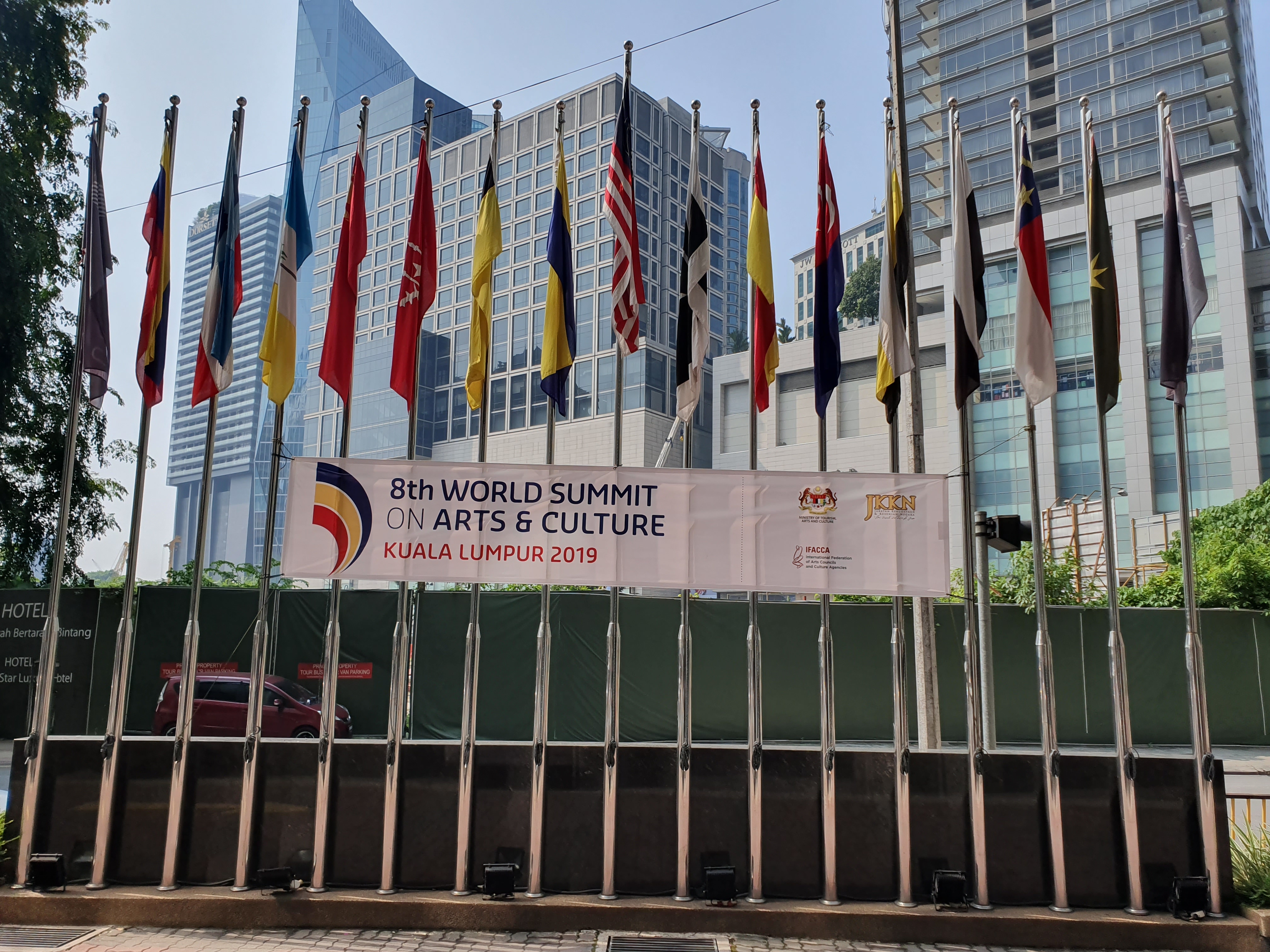 8th World Summit on Arts & Culture organised by the Interanational Federation of Arts Councils and Culture Agencies (IFACCA)
The following 7 key points emerged from the discussions:
Top reasons for rejections and feedback on why proposals are rejected. The grant managers emphasized the reasons they reject or shelf proposals:

Not clear in terms of objectives and content

Did not meet the application deadlines or were submitted when there was no open call

Did not demonstrate the sustainability and social impact of the project
Most funders do not give official, formal reasons why proposals get rejected. However, all speakers indicated openness for an informal chat with the applicants about their proposals. CLA mentioned they are looking into the request for a supervisor to guide applicants through the application process.
Success Rate. ASEF and Yayasan Sime Darby mentioned that 8-10% of applications received get funded/ sponsored. A question arose if it was due to the quality of the proposals or, if not enough funds are available to cater to the amount of art projects. Cambodian Living Arts (CLA) noted that at this point, their fund is still relatively new and they are trying to encourage applications.
Limits, funders worldview, value alignment and controversial projects. The audience raised the issue about how some grants cater only to young artists (below the age of 35). The discussion highlighted that the targeted grantees can be seen as a way to be specific about catering the needs of a group – marginalized or under-represented i.e. LGBTQI, emerging artists or artists at risks. The audience also queried if local Malaysian funders would fund potentially controversial projects (LGBTQI) and if not, perhaps the projects ought to be presented differently? Panelists spoke about need for honesty because the nature of the project would eventually be uncovered. Applicants should research and find grants that are aligned with their values and intentions.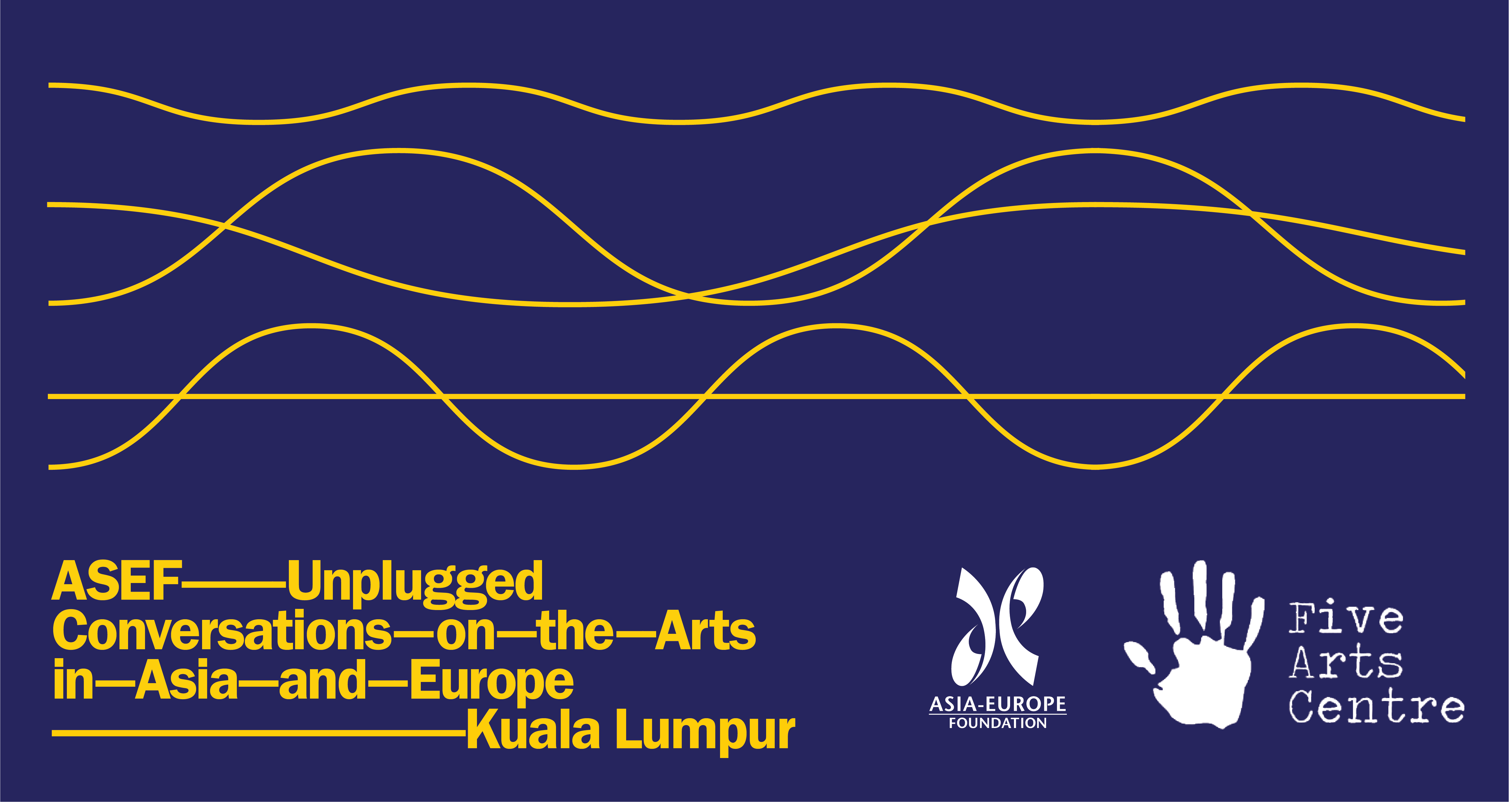 ASEF Unplugged-Kuala Lumpur at KOTAK Five Arts Centre
Paying the artist. Discussion on how some grants focus on paying the suppliers and service providers of the project (hotels, flights, venues and technical equipment) and leaving only a portion (if any) for personnel or artist fee. Some grants take into account artist payment in terms of per diem (Japan Foundation grants) and salary (Yayasan Sime Darby). The discussion extended to how freelance artists can be monetarily compensated while attending events and activities that are not directly creating work, but also takes up their time.
Format Restrictions, Language, Writing, Accessibility. Another issue raised was how grants are skewed towards English, which may be difficult for other language speakers – Malay and Chinese. ASEF reiterated that language proficiency was not a key factor in grant applications. At the same time, Japan Foundation KL stressed the need for coherence and clarity. CLA offers a non-writing based application where applicants can use audio and video. Most applications are made by uploading or emailing online forms and proposals. Yayasan Sime Darby, Goethe Institut and British Council were likely to call applicants and carry out an interview or due diligence.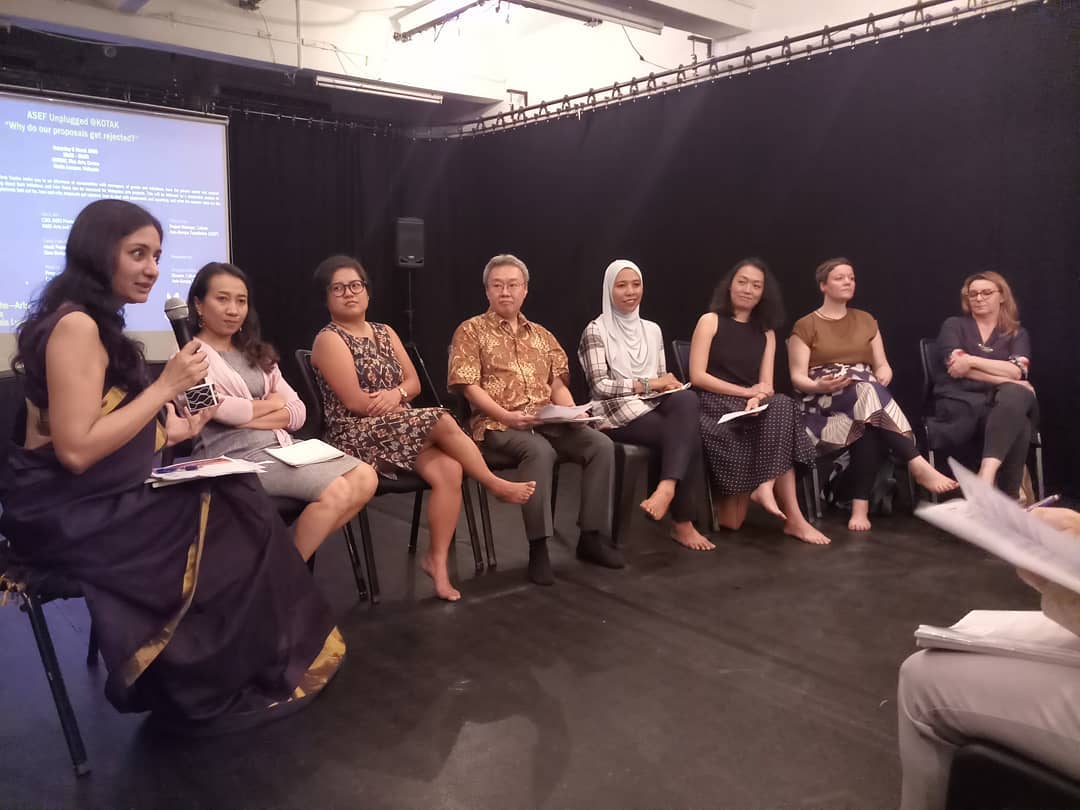 ASEF Unplugged-Kuala Lumpur (L-R): Anupama Sekhar (moderator, ASEF Director for Culture), Phina So (Camboodian Living Arts), Fatima Avila (ASEF), Tsuyoshi Kurihara (Japan Foundation Kuala Lumpur), Tunku Putri Afifah Tunku Anor (Yayasan Sime Darby), E-Jan Tan (INXO Productions), Miriam Hager (Goethe Institut), Florence Lambert (British Council)
Measuring impact. Funders reiterated that measuring the impact of an art project is difficult to quantify and often, qualitative measures are used. Some indicators include benefits of the project to the community (within arts community and/or beyond); and/or how the project can carry on beyond the phase funded. For applicants, this means understanding the main motives and objectives of the funders before writing an application.
Funders limitations, Public Money, Private Money. Grants using public money include Japan Foundation, British Council, Goethe Institut and ASEF. Grants using private money include Yayasan Sime Darby, INXO Arts Fund, Cambodia Living Arts (mix of own income, public and private money). Due to structures in place (private or public funds), funders mention their accountability and responsibility in ensuring the grants are disbursed in a professional manner, and to avoid any reputational risks to what the grants were used for.
---
Follow more conversations on arts, culture and heritage at #ASEFunplugged #ASEFculture
ASEF Unplugged is a new event series of the Asia-Europe Foundation focusing on informal peer-to-peer conversations on arts, culture and heritage. It responds to the growing demand from conference audiences for more interactive formats that allow for greater engagement of participants beyond being mere receivers of information.
To know more about ASEF Unplugged & to keep updated of our upcoming events, please visit: https://asef.live/unplugged
ASEF is publicly funded by over 50 partner countries of the Asia-Europe Meeting (ASEM), an informal political dialogue process. Japan is an ASEM partner country.
Five Arts Centre is a dynamic collective of Malaysian artists and producers, dedicated to generating alternative art forms and images in the contemporary arts landscape. It is well-known for cutting edge performances in theatre, dance, music and young people's theatre, and incorporates aspects of the visual and digital arts as well.
Written by: June Tan, Five Arts Centre