10th Anniversary of the Asia Art Archive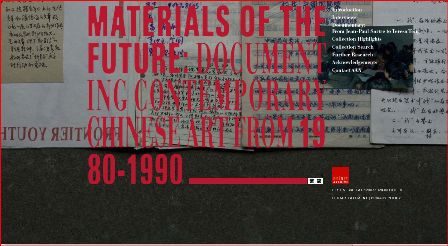 [caption id="attachment_7741" align="alignright" width="332" caption="Materials of the Future: Documenting Contemporary Chinese Art from 1980-1990"]
[/caption]
From October 2010 through mid 2011,
Asia Art Archive
presents six initiatives to commemorate its 10th anniversary, creating multiple platforms for discussion about the past, present, and future of contemporary art in Asia. These include:
Materials of the Future: Documenting Contemporary Chinese Art from 1980-1990
, a performance art initiative, the
9th Annual Fundraiser Gala Dinner and Charity Auction
, two international Artists-in-Residence in 2011, a web-art collaboration between Young-Hae Chang Heavy Industries and artist Song Dong, rebuilding the digital archive and updating the website and Open Edit: AAA Mobile Library (a pilot project in partnership with Sàn Art from Ho Chi Minh City).
AAA is a community effort that has grown from a single bookshelf in 2000, to one of the most comprehensive collections of source material related to contemporary art in the region. With over 32,000 titles, freely accessible to the public via its physical space and searchable from its website, AAA is dedicated
to documenting the recent history of visual art in Asia within an international context.
To extend the reach of the Archive, AAA
has developed into a platform and organized over 100 artist talks, community projects, educational workshops, symposia, exhibitions and screenings.
Culture360 had the pleasure of talking with
Kennis Lai
, Head of Communication at Asia Art Archive about its anniversary programme:
The recently launched project, Materials of the Future: Documenting Contemporary Chinese Art from 1980-1990, is very rich and important not only for the Chinese but for the world. Do you have any feedback, impression, observations, and opinions from people using this important tool?
Since the project's launch in October, more than 10,000 people have visited the site. Users range from generalists interested in contemporary Chinese art to academic and institutional researchers. The following quote from one of the site's academic users exemplifies the way in which the information on the site is filling a gap in available knowledge about the field:
The [China] 1980s archive and website is exactly what international scholars working in the field have needed for some years. It makes primary documents easily accessible – one does not need to apply for travel grants in order to fly to Hong Kong and the website is comprehensive. It also makes available valuable interviews with important witnesses/participants of the times, who are difficult to meet and interview if you are a scholar with limited budget and time for your fieldwork. In providing new insights and vast detail about these formative times, the project has enriched my research and given me new perspectives on the period.
-
Franziska Koch, Ph.D. candidate on Contemporary Chinese Art, Heidelberg University, Germany
Could you briefly recount the ideas or some conclusions discussed at the Action Script Symposium, which was held in October 2010, with the participation of key speakers like Thomas Berghuis, Ray Langenbach, Seiji Shimoda, and Martha Wilson?
Central to Action Script Symposium were the event's two roundtable seminars, wherein guest speakers and members of the performance art community in Asia had the opportunity to identify and discuss key issues related to the practice and documentation of the field. Participants discussed how performance art acts as a reflection of contemporary culture and social history, and identified strategies for promoting performance/live art practices in the region. Discussion highlights addressed the technical complexities of documenting ephemeral artforms, and the philosophical dilemma of archiving/historicising live art creations. The symposium provided a reflexive and critical ground from which AAA will further outline its 10-year-plan to develop a focused collection of documentation about performance art in Asia.
The pilot project, soon to be launched in 2011, Open Edit: AAA Mobile Library, is created around the idea of transportable archive. Where will this project first take place? Please describe the events that will be organized there.
In an effort to offset the limitation of its physical location in Hong Kong, Open Edit brings a selection of material from AAA's collection to different cities in Asia, inviting people to read and interact with it in unconventional ways. The first stage of the Open Edit tour—a collaborative effort of AAA, San Art, and Hong Kong artist Jaffa Lam—will be on view at San Art between 24 February and 9 April 2011.
Approximately 180 items — including monographs, exhibition catalogues, reference books, and magazines, most of which relate conceptually to mobility, traveling, exchange, interaction, participation, and communication — form the Mobile Library collection. In addition to reading the books, the public is encouraged to 'edit' them by writing, drawing, highlighting, adhering notes and pictures, and even tearing pages out of them. The material, as the platform for communication, will eventually become a document of the Open Edit process.
Do you have any European partners/supporters of AAA and its projects? If yes, please tell us briefly some projects you developed together.
AAA is collaborating with the International Institute of Social History (IISH, Amsterdam, The Netherlands) to preserve Malaysia-based artist Ray Langenbach's repository of 1000-hours of video documentation on performance art and theatre works. A set of video copies will be deposited at the IISH and AAA upon the completion of the project.
Online resources and further reading:
www.aaa.org.hk
www.china1980s.org
http://www.artstor.org/news/n-html/an-100601-asian.shtml
About the writer:
Florentina Bratfanof has worked in the theatre field in Romania in the past 10 years, first as a Press Officer for ACT Theatre, the first independent theatre in Romania, then as a cultural journalist for an online platform website also about theatre events and projects. She has been involved as well the Press Office of several theatre festivals: the 2008-2009-2010 editions of Romanian National Theatre Festival, Bucharest, Romania; Underground Arad Fun 2009, Arad, Romania; 36th International Festival of Alternative and New Theatre, Novi Sad, Serbia.