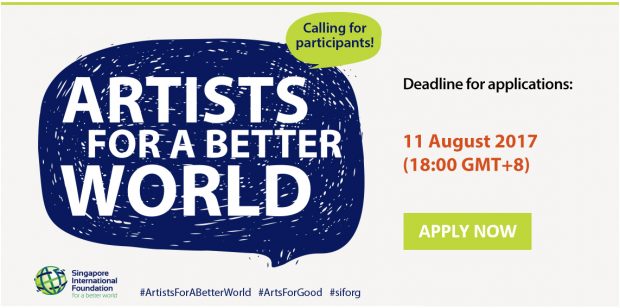 The Artists for a Better World programme is led by the Singapore International Foundation. It invites applications from artists and arts managers worldwide to join a programme seeking to grow the Arts for Good ecosystem, which harnesses the power of arts and culture to create positive social change. This year, the programme will focus on exploring how the arts can create positive social change for people with disabilities.
If you are an artist, arts administrator or a programmer from a social welfare organisation who is an emerging professional with an interest in arts for good, we want you!
Through the Artists for a Better World programme you will:
Build capacity through gaining exposure, expanding perspectives and growing understanding and skills needed such as programme design, impact measurement and stakeholder management
Connect with professionals from a regional ecosystem including corporates, social welfare organisations, education and cultural institutions that are keen in harnessing the arts for social change
The SIF is looking to enrol up to 30 applicants to take part in Artists for a Better World.
Eligible applicants are as follows:
a. Emerging arts and culture practitioners from any medium or genre, creative professionals, art administrators and programmers from non-governmental organisations and social welfare organisations
b. Have prior experience working with a community through the arts
c. Interested in arts-based projects aimed at creating social impact within the disabled community
d. Conversant and able to work in English
e. Able to attend all segments of the programme
f. Of any age and nationality
What is the Artists for a Better World programme about?
Artists for a Better World is a capacity and network-building programme in Singapore and Kuala Lumpur. The programme will:
a. Build your capacity by providing exposure, expanding perspectives and growing understanding and skills needed such as programme design, impact measurement and stakeholder management
b. Connect you with professionals to form a regional ecosystem of corporates, social welfare organisations, education and cultural institutions keen in harnessing the arts for social change
c. Provide opportunities to start new collaborations across borders
The programme will commence from September 2017 to March 2018 and will include the following components:
a. Online webinars: Two webinars in October 2017
– Exploring how the arts can do good
– Overview on disability issues in the region.
b. Four-day workshop in 21 to 24 November 2017, in Singapore
Gain insights into the inter-disciplinary nature and demands of an impactful Arts for Good project. Learn about programme design methodologies, impact measurement and evaluation.
c. Four-day workshop in 06 to 09 February 2018, in Kuala Lumpur
Learn project management fundamentals needed for an Arts for Good project, with emphasis on
stakeholder management, effective communications and working with funders.
d. General Commitment: 3 to 5 hours per week of self-reading, preparation and online peer interactions outside of the workshop and webinar programme