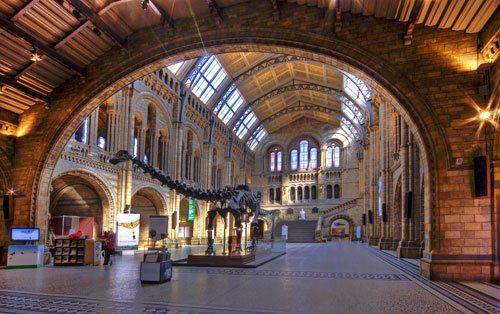 Full time job opportunity with the Natural History Museum in London as Sales Manager, Touring Exhibitions (within the Asian Clientele Market). Touring Exhibitions is part of the International Engagement department, the team are now recruiting for a Touring Exhibitions Sales Manager working primarily within the Asian market.
Vacancy reference: JJ/NHM/SM
Location: South Kensington
Employment type: Permanent
Area of business: Public Engagement
Closing date: 8 March 2015
Touring Exhibitions, part of the International Engagement department, is a growing section within the Museum whose works work involves liaising with hosting venues worldwide in presenting NHM exhibitions. Last year over three million visitors saw presentation of the Museum's touring exhibitions outside of London including our popular Dino Jaws to specimen rich exhibitions such as Extinction and our world famous Wildlife Photographer of the Year. Each exhibition makes scientific knowledge accessible in an engaging way and helps further the Museum's global reach.
The team are now recruiting for a Touring Exhibitions Sales Manager working primarily within the Asian market. For more detail on the department: http://www.nhm.ac.uk/business-centre/touring-exhibitions/
The Sales Manager will be responsible for the selling of the Museum's portfolio of International Touring Exhibitions to ensure a full booking schedule is achieved. They will be responsible for high level sales with clients primarily in Asia and will report to the Head of Touring Exhibitions. Our clients include Museums, Galleries, Science Centres, Zoos, shopping centres and a variety of other exhibition spaces. The role will require travel internationally and also a great deal of negotiations, business planning and market analysis.
The Touring Exhibitions Sales Manager will be able to think of creative pitches and solutions, selling to customers with a wide range of exhibition configuration and audiences. They will liaise with other internal departments to jointly create with other team members marketing and communications materials including print, video and web.
The successful candidate will do customer research to identify new clients and gather/analyse statistics to monitor results and benchmark in specific regions that she/he will manage.
They will also provide monthly sales reports and liaise with Logistics to ensure all clients' needs are met.
As an international focused role the successful candidate will be aware of the long haul travel requirement and some weekend working due to travel schedules.
Salary: £33,015 per annum plus benefits