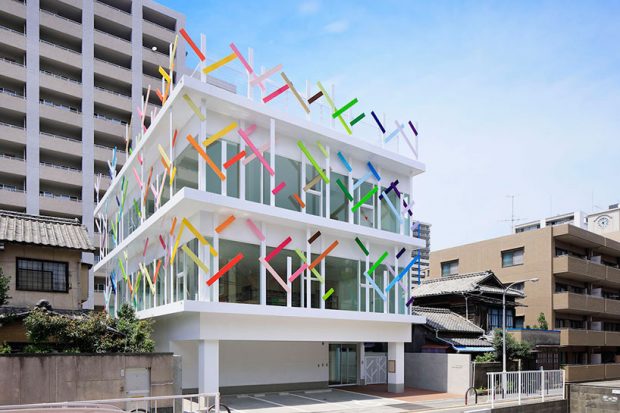 French architect Emmanuelle Moureaux's  latest project, creche ropponmatsu kindergarten in Fukuoka, uses her concept of 'shikiri' where the multi-colored façade creates a welcoming atmosphere for students and faculty alike. The kindergarten holds a capacity of 90 children aged 0 to five years old.
After coining the word 'shikiri', meaning to divide space using colours', French architect Emmanuelle Moureaux's modus operandi can be found in the majority of her works.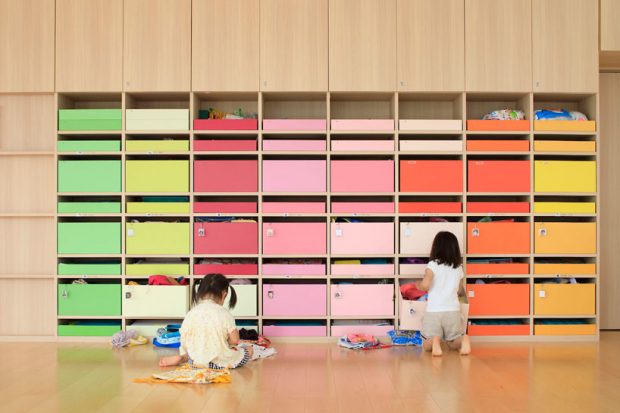 Emmanuelle designed the architecture, interior space, logos and graphical signage, with a vision to open a new kindergarten where children can grow up freely in mind and body. The façade itself is home to 22 colors, used in 63 multi-colored trees that are 4 m in height, extend the branches rhythmically and wrap around the building. while the glass-clad structure reveals a sense of openness, the playful multi-colored 'branches' visually protect the children in a gentle gesture. in the nursery room, 200 colorful boxes in 25 colors are lined up on the wall, where each one of them belongs to every child in order to stock their personal goods.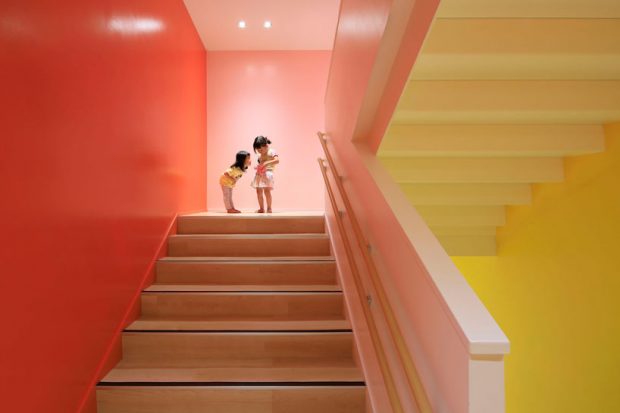 Inspired by the layers and colors of Tokyo, where Moureaux has lived since 1996, that built a complex depth and density on the street, and the Japanese traditional spatial elements like sliding screens, she has created the concept of shikiri, which literally means "dividing (creating) space with colors". She uses colors as three-dimensional elements, like layers, in order to create spaces, not as a finishing touch applied on surfaces. Handling colors as a medium to compose space, her wish is to give emotion through colors with her creations, which range from art, design to architecture.
More details on design boom