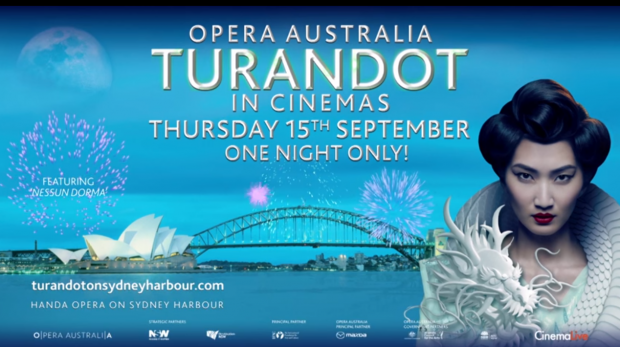 An international cinema event on 15 September 2016! Opera Australia presents Turandot: The Puccini classic – created especially for the acclaimed Handa Opera on Sydney Harbour's jaw-dropping outdoor water-stage performance, director Chen Shi-Zheng brings a unique perspective to this classic story.
Screenings are taking place, through CinemaLive venues, across Europe: in Austria, Belgium, Denmark, Finland, Germany, Ireland, Italy, Netherlands, Norway, Spain and the United Kingdom; in Australia and New Zealand (mostly on 15 September – check venues for details).
Puccini's Turandot is one of the greatest operas ever written: brilliant melodies for music-lovers, a gripping story for those that need action and drama, an exotic setting and plenty of movement for lovers of stagecraft and visual splendor. Not forgetting an incredible version of Nessun Dorma sung by Riccardo Massi.
With a cast of seventy-eight, designer Dan Potra has created a stunning set for the spectacular harbour backdrop, including a 60-meter fire-breathing dragon, with a tail that morphs into the Great Wall, and a shimmering pagoda that stands 18 meters tall.
Steering away from traditional Chinese tropes, the director presents a China that is sleek and modern, with set elements and costumes that reflect the spirit of today. The production also features 187 hats and headdresses, 46 wigs and 30 sets of facial hair!
Expect bold, dramatic, bright shapes and a set that will take your breath away.
Run time: Approximately 2 hours 15 minutes, including a 15-minute interval
Performed in Italian with English subtitles
Read the synopsis
Opera Australia is Australia's national opera company, presenting more than 700 performances and playing to more than half a million people each year.