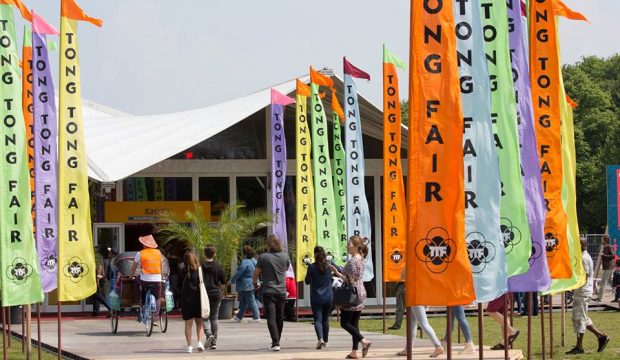 Tong Tong Fair takes place in The Hague 25 May – 5 June 2017. Set up in 1959, it is the biggest Eurasian fair in the world. The event is a sensory stimulating blend of cultural festival, exhibition and food fest rolled into one, held in an archipelago of tents and stands. In 2017 it will take place for the 59th time.
One of the biggest attractions is the Tong Tong Festival, with hundreds of performances spread over 12 days. The daily entry ticket for the Tong Tong Fair also includes a theatre pass for the Tong Tong Festival.
The international Tong Tong Festival takes place in four theatres on the fair site. The Tong Tong Podium is where the major music, dance and fashion artists perform. The intimate Tong-Tong-Theater presents lectures, interviews (mostly in Dutch, but increasingly in English too), acoustic and theatrical performances.
In the Bengkel (studio) you are welcome to participate in all kinds of workshops: in music, dance, art, cooking and lots more. We have had the pleasure of welcoming artists, writers, lecturers and master chefs from Indonesia, Singapore, Malaysia, Vietnam, Cambodia, Sri Lanka and the United States in recent years.