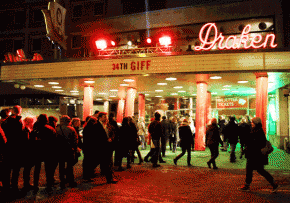 Whether Iceland's economic turmoil has spurred the creativity of the country's filmmakers is a question we'll leave unanswered. But the fact is that this year the country has produced a number of very well-made, original and artistic films of high-quality. Each of them manifests Iceland's distinct character in a refreshing and personal way. That's why the 2014 Göteborg International Film Festival has chosen to highlight Icelandic film, especially within the framework of the festival's longstanding focus on Nordic film.
Two Icelandic films are nominated for the Dragon Award for Best Nordic Film: Málmhaus (Metalhead) by Ragnar Bragason and Hross í oss (Of Horses and Men) by Benedikt Erlingsson. Additionally, the first Nordic Honorary Dragon Award will go to the Icelander Baltasar Kormákur. The festival will also present an Icelandic retrospective that looks back at the last 20 years of Icelandic film.
Göteborg International Film Festival is the biggest film festival in Scandinavia as well as one of the biggest audience festivals in the world. Journalists from all over the world attend at the festival to cover, among other things, the new Nordic films in the Nordic competition or the interesting debutants in The Ingmar Bergman International Debut Award.
This year, the festival will take place from 25th January to 4th February 2014.