Mobility Funding Guides for International Cultural Exchange in Asia and Europe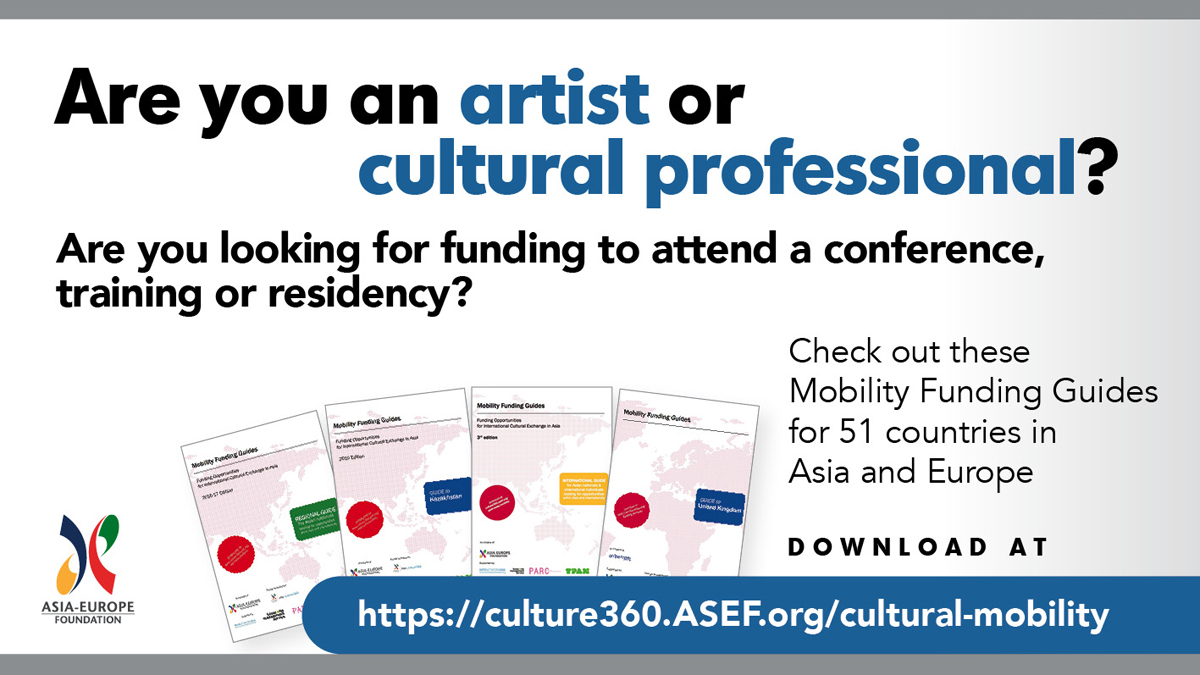 Since 2012, the Asia-Europe Foundation (ASEF) and On the Move (OTM) have jointly presented the Mobility Funding Guides for International Cultural Exchange for the 51 countries of the Asia-Europe Meeting (ASEM). These guides provide a comprehensive and updated list of funding opportunities for the cultural mobility of artists and cultural practitioners in Asia and Europe, where cultural mobility is defined as "the temporary cross-border movement of artists and other cultural professionals."
The Mobility Funding Guides are a direct response to the need to "further enhance networking among professionals in cultural and audiovisual fields" in Asia and Europe to ensure "wider and balanced exchanges" and "foster diversity of cultural expressions", as emphasised by Asian and European Culture Ministers in the framework of ASEM. In addition to 51 country-specific guides, a Focus on Asia guide and a guide Open to Any Nationality provide further resources for funding on a global scale.
The international approach of the Mobility Funding Guides is crucial as it positions the discussion on the funding of cultural mobility in a global perspective in order to better respond to local needs and interests from the cultural sector. It also serves as a tool for funders and policy makers to identify areas that still need to be funded and/or supported.
Since 2017, ASEF is also supporting existing funding gaps in this area, particularly in the Asia-Asia and Asia-Europe contexts with Mobility First! ASEF Cultural Mobility Initiative. In its first year, this initiative has enabled the participation of 73 artists and cultural practitioners in the ASEM region to a wide range of capacity building activities. The next call call for proposals that will be launched in February 2018.
ASEF and On the Move will continue to update the Guides regularly. We invite you to download the latest editions below. For a better reading, we also invite you to read the Preface to the latest 2017 Edition and the handbook on How to read the mobility funding guides.
All European Guides are downloadable at: http://on-the-move.org/funding/europe