Indonesia | Literary Translation Workshops | call for applications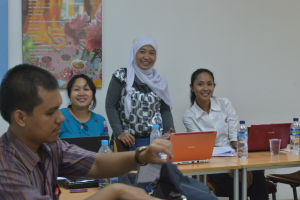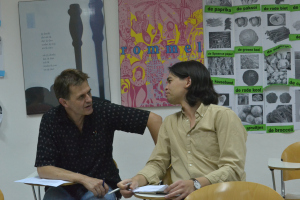 Inisiatif Penerjemahan Sastra, an Initiative for the Improvement and Promotion of Literary Translation in Indonesia, in collaboration with the British Centre for Literary Translation and Paper Republic, is offering six-day literary translation workshops, Jakarta, 22-28 September 2013.
Apply now - deadline: 31 July
Literary Translation Workshops 2013
Classes on offer:


From  Bahasa Indonesia into English (with author Triyanto Triwikromo and  translator Pamela Allen);


From English into Bahasa Indonesia (with author Jose Dalisay and translator Arif Bagus Prasetyo);


From Norwegian into Bahasa Indonesia via English (with author Kari Fredikke Brænne, translator Kari Dickson, and translator Miagina Amal);


From Mandarin into Bahasa Indonesia (with a Chinese author to be confirmed, translator Eric Abrahamsen, and translator Yusi Avianto Pareanom).


Based on the International Literary Translation Summer School run by BCLT at the University of East Anglia (
www.bclt.org.uk/summer-school
), the aim of the workshop is to offer an intensive program of hands-on translation practice, with the author present, in some classes via English as a bridge language.
On Tuesday 24 September and Thursday 26 September we will invite Indonesian authors to read their works, which we will translate into English in advance (Indonesian Authors Showcase).
On Wednesday 25 September, we will invite publishers to take part in a panel discussion with workshop participants. The aim is to introduce participants to the publishing industry, and for editors and translators to have an opportunity to share their concerns and expectations with one another.
The following Saturday 28 September is reserved for events open to the public with a discussion on creative ways to promote literature in translation with publishers, editors of literary journals, and representations from literary translation organizations;a reading of the translated texts by workshop participants.
For photos and testimonies from last year's workshops please see our website:
www.inisiatifpenerjemahansastra.org
To apply
please send us a 3-page translation sample, and tell us about your practical translation experience, relevant qualifications, your enthusiasm and commitment to literary translation and your reasons for wanting to take part in the workshop.
The workshop costs IDR 650,000 (USD 70), including lunches, but not including accommodations in Jakarta. The group rate for our hotel is IDR 2,750,000 (USD 280) for 7 nights. Dinners not included. Participants are responsible for arranging their own travel to Jakarta.
Please send your applications to inisiatifpenerjemahansastra [at] gmail [dot] com by
31 July 2013 at the latest
. NOTE: For the Indonesian-into-English workshop we will assess applications immediately after we receive them, and we will notify applicants a few days after, so that successful applicants have enough time to plan their trip to Jakarta.
For the other workshops, we will inform applicants of the results by 31 August 2013. Successful applicants must then confirm their attendance by transferring the workshop fee.
This project is supported by the program Creative Encounters: Cultural Partnerships between Asia and Europe, promoted by the Asia-Europe Foundation (ASEF) and Arts Network Asia (ANA), in collaboration with Trans Europe Halles (TEH)
[Images from 2012 workshop: Some of the workshop participants: Alex NM Simanjorang, Yasinta Deka Widiatmi, Retno Wulandari Setyaningsih, Ayu Winastri; Workshop leader David Colmer and author Gustaaf Peek (left-right)]