European and Chinese cultural managers exchange views in Kunming, China | Key insights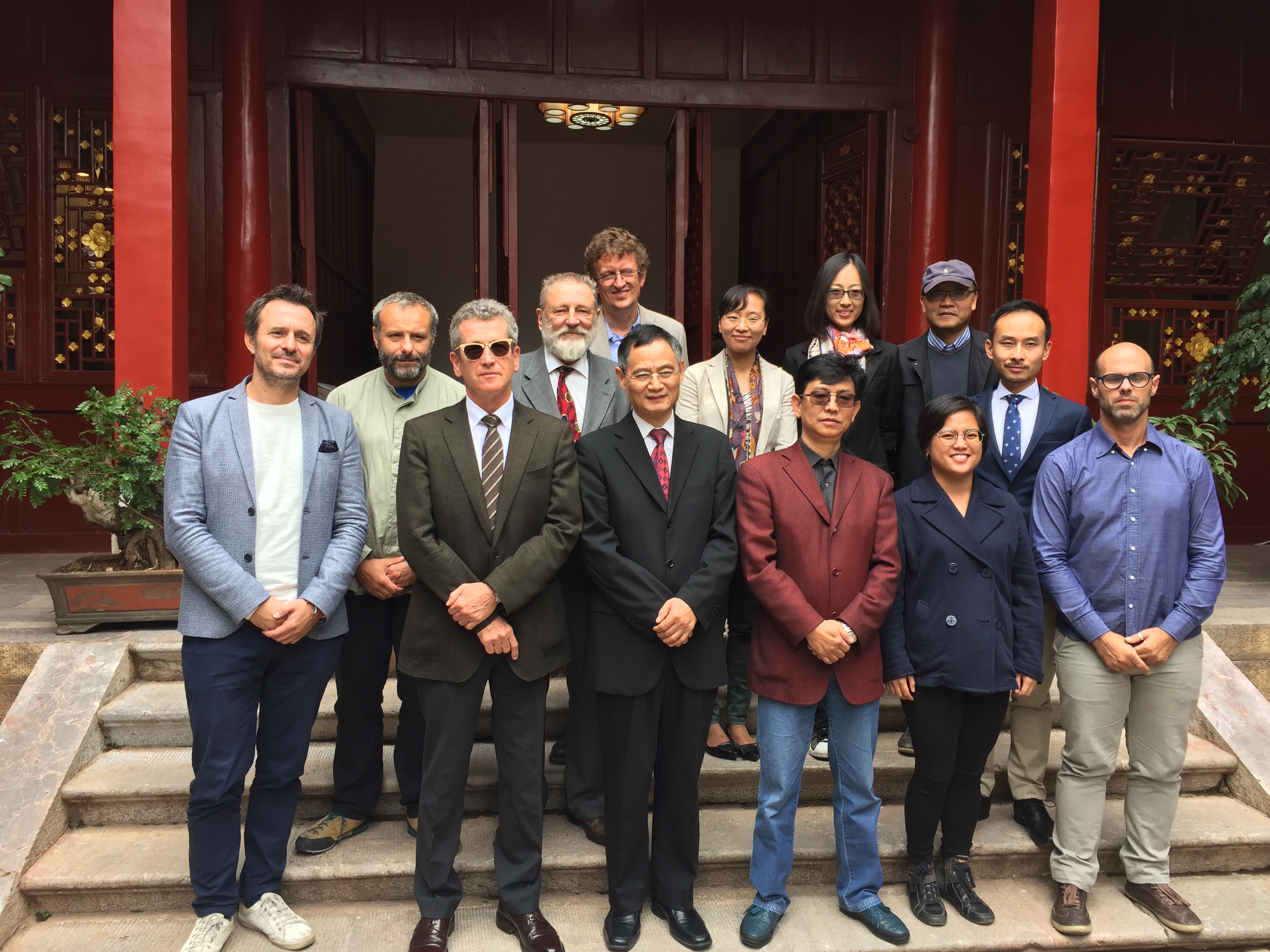 The first phase of
Eurasian Creaspace Networking (ECN)
, an international project by the
Culture Development Institute
 of Yunnan University (China) and
Econcult
 of the University of Valencia (Spain), provided an immersion in Kunming, China, for 6 cultural and creative industries experts from the UK, Italy, France, and Spain. During the 3-day exchange from 21-23 September 2016, the participants and their local counterparts discussed  European and Asian perspectives and practices in running creative spaces. This initiative was supported by
ASEF Creative Networks
.
[caption id="attachment_60718" align="aligncenter" width="620"]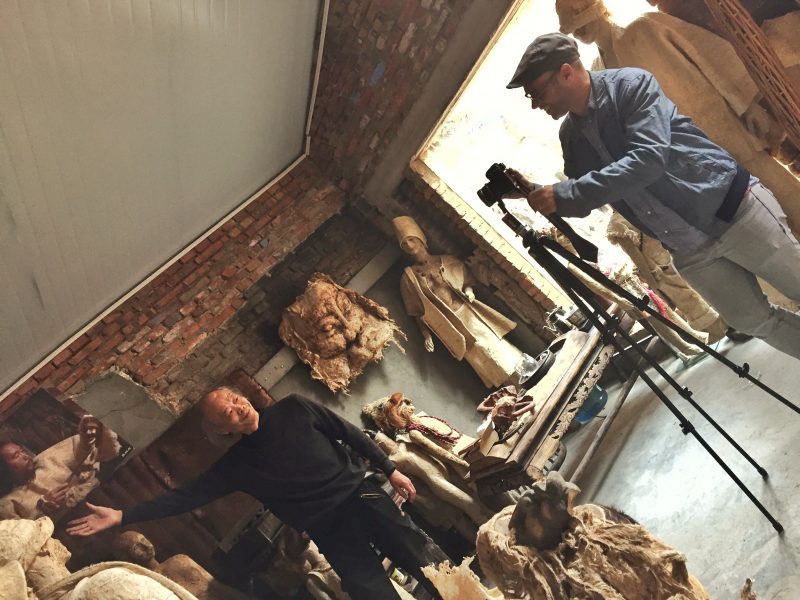 Bernard Custard documents a studio visit at Yunnan Ethnic Village, 21 Sept 2016[/caption]
During the first 2 days, the 6 European participants visited a variety of cultural and creative spaces including ethnic/minorities villages, tea and architecture museums, historical streets, co-working spaces, art districts/compounds, and a department store specialising in locally-sourced products.
After each visit, the European participants had the opportunity to meet with the directors and managers of the spaces to discuss similarities and differences between European and Asian perspectives and practices. The discussions covered a wide range of topics including business models, partnership structures, marketing strategies, short-term and long-term cultural visions, ideas for innovation and collaboration.
On the third day, the European participants gave presentations about their own cultural and creative spaces to their Chinese business counterparts, students and academic staff of Yunnan University.
[caption id="attachment_60721" align="aligncenter" width="620"]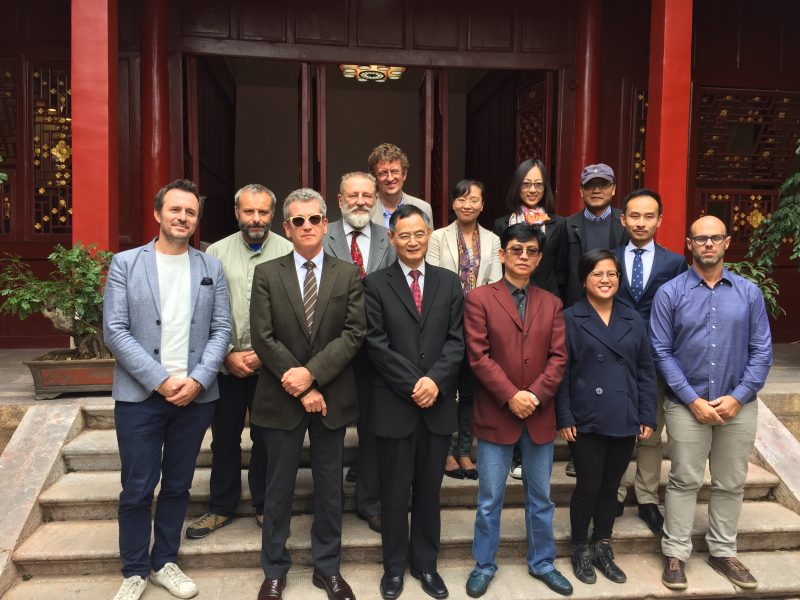 European participants, Director Li Yan (Yunnan University), ASEF, 23 Sept 2016[/caption]
Insights from the discussions included:


Exclusive or specific 'European' or 'Chinese' or even 'Asian' business models for creative and cultural spaces do not exist - we cannot box a particular business model to Western or Eastern regions although Europe tends to be more socially-driven, while the Chinese practice is more economically-driven;


Local development should be at the heart of cultural and creative policies - European and Chinese cities both experience an exodus of young creative professionals, although in varying degrees. Those who stay and persevere in a cultural or creative career track run the risk of taking low-level jobs in the service of tourism;


Heritage and local development must be strongly integrated - Both European and Chinese regions recognise the importance of preserving cultural heritage and the need for heritage to be a basis for cultural production;


Modern digital technology is a very important tool for creative professionals to break into the business world - modern digital technology enables creative professionals of all levels to market themselves individually and this should be encouraged and supported;


New models for governance in both European and Chinese contexts are less and less top-down - presently, the interest in both regions lies in letting go of tight control and being flexible and adaptable to needs of both the creative producers and the market. But this requires both maturity and humility;


Collaboration is critical - Both local and international collaboration between creative spaces is critical for sustainability. In an ever evolving world of commerce, how can we create a new market? And the key for collaboration depends more on the people than the institutions themselves. Relationships must be cultivated and strengthened with the emphasis on face-to-face meetings between stakeholders;


The priority of cultural and creative spaces now is self-empowerment - To remain relevant, cultural and creative spaces must prioritise empowering themselves and increasing self-entrepreneurship. As funding comes from both public and private sources, creative spaces must continually upgrade what they do and how they present what they do. In research, focus must be placed on both academic and practical areas.


[caption id="attachment_60720" align="aligncenter" width="620"]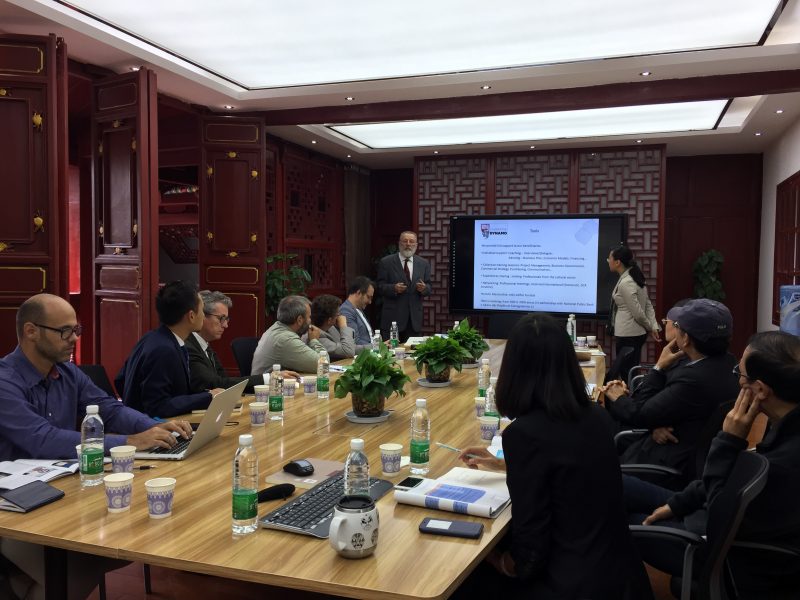 Final day workshop with Ferdinand Richard giving his presentation, 23 Sept 2016[/caption]
The 6 European participants are:


Pau Rausell Koster (Spain) is a doctor, economist and professor of the Department of Applied Economics at the University of Valencia. He is also the Director of Econcult;


Ferdinand Richard (France) is the director/founder of AMI Association, which is a local cultural development platform in charge of the Dynamo incubator for cultural businesses in Marseille;


David Leone (Italy) is an architect and expert in urban and regional planning. He is the co-director of Cre.Zi Plus which is a new creative framework in Palermo (Sicily);


Tony Ramos Murphy (UK) is an expert in Cultural Policy and Cultural Strategic Planning with more than 20 years experience in the culture field. Now based in the Canary Islands in Spain, he is a consultant for a variety of cultural organisations and public institutions.


Jean-Pierre Brossard (France) is a European Union project consultant and trainer with 12 years experience working with NGOs and local authorities in the field of culture, social economy and the environment. He is part of the Darwin Ecosystem co-working space in Bordeaux.


Bernard Custard (Spain) is an expert in photography and multimedia. With 17 years working experience, he offers the best technical solutions for art institutions like museums and galleries and other international companies.


[caption id="attachment_60719" align="aligncenter" width="620"]
Panel discussion with directors of M60 art compound, Puform architecture space, and Zhubajie co-working space, 22 Sept 2016[/caption]
The second phase of
Eurasian Creaspace Networking (ECN)
will be held in Valencia, Spain on 23-26 October 2016 where Asian cultural professionals from the Philippines, India, Indonesia and Japan will visit and participate in the programme.
This project would not have been possible without the hard work and coordination of Chwan Lee (University of Valencia) and Ying Wang (Yunnan University).
For more information about the project:
http://ecn.econcult.eu/