798 Beijing Art Zone: a profile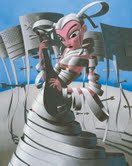 A walk through the gallery district 798 in Beijing opens up a number of perspectives on the varied scope of works being created by contemporary Chinese artists today. It also conveys an updated idea of the contemporary visual art market in Hong Kong, Korea and even Europe. In addition, for a tourist looking for the spirit of Asian 'flavours', 798 Beijing Art Zone is a place that offers a peek into the history, society, habits, ideas and dreams of this part of the world.
Three emerging artists who work in different mediums have been highlighted in this article, each from a different genre of art: Deng Xinli (painting), Li Zhangyang (sculpture) and Yangjiang Group (calligraphy). This article explores their current exhibitions in 798 Beijing Art Zone.
A brief history of 798
798 Beijing Art Zone is the perfect example of how a place can be transformed by the power of the human spirit. It was once a factory. Artists and other creative people began to move into the then cheap rental space, transforming the area into what it is now - open workshops, galleries, bookstores, shops selling souvenirs, pieces of contemporary design and fashion.
According to the website,
www.798art.com
, the area occupied by Beijing 798 Art Zone once housed the Beijing North China wireless joint equipment factory (known as the 718 Joint Factory). It was designed and built by the experts of the former German Democratic Republic (East Germany) in the 1950s.
The task of designing the
718 Joint Factory
rested on a German architectural institution in Dessau - the same city with the Bauhaus school at that time. The both shared the same architectural spirits with the main characteristics being meeting the practical demands; bringing the technical and aesthetic properties of new materials and new structure into effect; designing simply and composing pictures vividly and with flexibility.
Attracted by orderly design and unique Bauhaus architecture, a number of arts organizations and artists flocked to rent the vacant space, gradually transforming it into a district of galleries, art studios, cultural companies and fashion shops. This reinvented district was named
Beijing 798 Art Zone.
The following profiles explore the mediums, inspirations and exposures of two Chinese contemporary artists and one artist group……..
[caption id="attachment_5917" align="alignright" width="132" caption="House of Flying Daggers, Deng Xinli"]
[/caption]
1. Deng Xinli
 After graduating from the Oil Painting Department of Chinese Central Institution of Fine Art, Deng Xinli exhibited in New Zealand and taught Surrealism Art and Traditional Painting Technique there for three years (2004-2007).  
Exhibitions of his works include:
 2009: Group exhibition "Beauty in Animamix", Linda Gallery, Singapore
2008: Group exhibition "Game of Acting The Fool", Tn Gallery in 798 Art District, Beijing   "East Influence", UXBRIDGE Art Centre of New Zealand
"100 Tales in Animamix", Linda Gallery, Beijing
2007: Group Exhibition, Qiao Gallery of 21 Century Plaza, Beijing
[caption id="attachment_5925" align="alignright" width="166" caption="Lady of Moon, Deng Xinli"]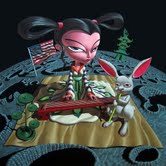 [/caption]
2004: "Return to Dreams II", Duo exhibition with Xie Yi,
"Nathan Homestead" Art Centre of New Zealand
1999: Solo exhibition, "Return to Dreams", Quarry Art Centre of New Zealand
Linda Gallery (Singapore) recently exhibited
Deng Xinli
's works in a show entitled "Fantasy in The Flooding World". Curator Wang Chunchen says "Deng Xinli's works can be placed within a brand new painting category, one which issues from the transformation of artists' views towards the world in the current age. Deng Xinli is the representative of a new breed of artists, whose artistic experience precisely reflects this transformation."
In the current exhibition, "Fantasy in The Flooding World", Deng Xinli brings a fresh image of a graceful but powerful lady. Sometimes she is dressed in magnificent Tang Dynasty style, or as a steely knight, or she changes into a fairy, or a contemporary joyful girl. All these prove a multifaceted presence and, at the same time a fragmented world. The simple elements in the background, such as the American flag, or a Chinese traditional tower in the painting, "Lady of Moon no.5" for example, enhance these ideas. This can also be seen in the arrows marking different directions in "House of Flying Daggers", or the lute with the Chinese star in "Immortal Nostalgia: Lute Fairy".
All his works create a mixture between tradition, myth, legends, and new elements of the modern era, succeeding in generating a contradiction among visual images and composing his narration of history through images.
[caption id="attachment_5920" align="alignright" width="221" caption="Li Zhanyang"]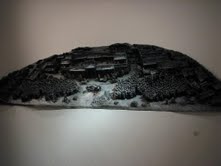 [/caption]
2. Li Zhanyang
The second discovery is sculptor,
Li Zhanyang,
currently
exhibiting at the
White Box Museum. His series "Chinese Patients" is a solo exhibition curated by Gu Zhenqing. Li Zhanyang lives and works in Chongqing, Sichuan Province. In 1994, he graduated from the Sculpture Department of Lu Xun Academy of Fine Arts in Shenyang, and in 1999 completed his Master's Degree program at the Central Academy of Fine Arts in Beijing.
His sculptures reflect common peoples' private lives and street scenes, sometimes twisted, pretty much coloured, realistic, but very alive. There is a piece depicting a crowd boarding a bus which reminds us of the chaos involved, where in Beijing, people jostle and push to get on the bus because otherwise they would be left behind.
The recent artworks of Li Zhanyang under the title of "Chinese Patients" explore the new dimension of traditional Chinese folk sculpture, taking a different view of  the everyday life of Chinese people.
3. Yangjiang Group
Tang Contemporary Art Gallery is currently hosting the exhibition "Garden of Pine – Also Fierce Than Tiger II" by the
Yangjiang Group.
The
Yangjiang Group is an artistic group founded in 2005 by Zheng Guogu, Chen Zaiyan and Sun Qinglin. They use Chinese calligraphy as the unique media to develop diverse contemporary art practices.
 The Yangjiang Group is a continuation the Yangjiang Calligraphy Group founded in 2002. The group works and lives in Yangjiang, a small city in Guangdong Province. This trio is unique because they continue working in this little town, unlike artists all over China who work either in Beijing or Shanghai. The trio intentionally avoid the political and cultural centres in order to stay clear of the grand narrative.
 The current works shown in this solo exhibition are a completed version of the previous "Garden of Pine – Also Fierce Than Tiger" which was presented in the Lyon Biennale in 2009. The Group transformed a space in Tang Contemporary Art Gallery into a playground where traditional and Western habits and ways of spending free time are combined. In an elegant surrounding appropriate for old Chinese poems, paintings and such, one can see groups of people drinking alcohol and playing dice.
The group recreates the life space in Southern Chinese context, exploring how a story could be constructed within limited elements such as trees, bridge, pond, waterfall, which suggested by Chinese classical philosophy meantime nevertheless confront with the social transformation and global movement, there, calligraphy becomes the metaphorical illustrations to imply the life uncertainty and mystery.
Their exhibition gives also a sense of how the three artists can harmoniously work together and unite in one artistic concept.
The exploration of these two Chinese artists and one group is an enriching experience leading to spiritual insights. The three exhibitions provide foreigners with a glimpse of what is a true reflection of the contemporary Chinese art world.
[caption id="attachment_5923" align="alignright" width="130" caption="Yangjing group"]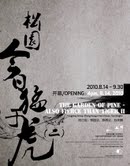 [/caption]
 Further resources:
http://www.chinese-art.com
http://www.newchineseart.com/
http://www.artrealization.com/
http://www.platformchina.org/
http://www.lindagallery.com/
http://www.vitamincreativespace.com/
http://www.chinaartnetworks.com/