Filmmaker residency in Košice, Slovakia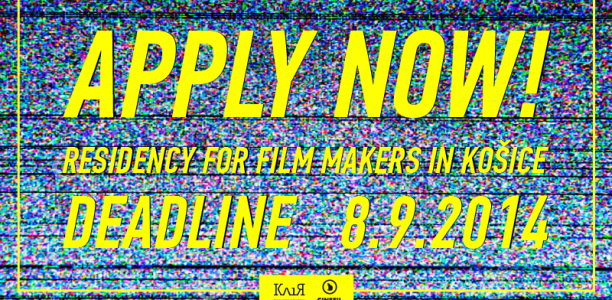 Cinefil Košice and K.A.I.R. Košice Artist in Residence announce an open call for a filmmaker residency. The chosen artist will create an original short film over a period of 10 weeks whose theme should in a creative way relate to the city of Košice, Slovakia.
The residency starts 6 October and ends 15 December. . The resident is not obliged to spend the whole 10 weeks in Košice. Final film will be of course presented in Košice at the end of the stay.
Filmmakers commit to create an audiovisual artwork during their stay in Kosice in any of these categories:


Fiction film


Documentary film


Animated film


Dance film


In case of interest send us by email to film@kinousmev.sk:


CV


Portfolio consisting of 5 finished works (in case they are online, we only require the links)


Short motif or a theme of the film you wish to realise in Košice


Deadline: 8 September 2014
Chosen candidate will get:


1500€
 fee


Travel reimbursement up to 200€


Accommodation


 Atelier / Studio


Technical support


Production and local support


Long term efforts of Cinefil o.z. are focused on returning the best of film to the city of Košice. The priority though is the re-opening of a good (art) cinema. We have a concrete cinema in mind – Kino Úsmev at Kasárenské námestie in Košice. In order to to get film out of the poor-neighbour position in relation to other artistic disciplines we have decided to prepare a new thing –
filmmaker residency that will result in an original short film
. We will borrow experiences from K.A.I.R. Košice Artist in Residence, that works with residencies and their development for several years now. Independent film production is something that we miss in the city and it also is something that puts stress on the fact that (quality) production needs a space for exhibition.