Tarkovsky's archive fetches $2.4 million, returns to Russia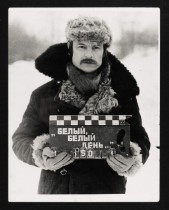 A 'dramatic 18-minute bidding battle' for an archive of acclaimed Russian film maker Andrei Tarkovsky fetched
Southeby auctioneers
 £ 1.5 million ($2.4 million) in London this week. The bid, which was raised 15 times its initial sale price, went to the government of Ivanovo region, northwest of Moscow, in Russia. The archive is a collection of thousands of working manuscripts including several autograph chapters of his theoretical book 'Sculpting in Time, personal photographs, recordings and private documents. According to Southeby's, this archive casts a new light on Tarkovsky's film making techniques, private life and artistic struggle in his homeland.
The government of Ivanovo region purchased the archive, with the help of the Russian culture ministry, to preserve the heritage of the genius film director in his homeland, the city of Yurevets in Russia. The Ivanovo Region already houses the Tarkovsky memorial museum and hosts the annual International Film Festival of Andrei Tarkovsky called 'The Mirror'. The archive would be placed in public view in the Tarkovsky memorial house museum.
According to Steven Roe, Southby's head of books and manuscripts, the importance of this archive cannot be overstated. Roe also said in a statement that no significant material relating to Andrei Tarkovsky has ever before appeared at an auction, and it is unlikely that such an archive will appear again.