from - to
26 Jan 2011 - 06 Feb 2011
International Film Festival Rotterdam 2011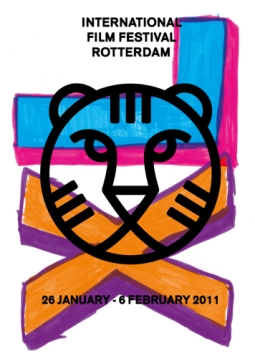 The International Film Festival Rotterdam (IFFR) offers a quality selection of independent, innovative and experimental cinema, video and media art. During twelve festival days, hundreds of filmmakers and other artists present their work to a large audience (2010: 353,000 admissions) and 3,000 film professionals in 25 screening rooms on 8 festival venues. The 40th edition of the International Film Festival Rotterdam takes place from Wednesday January 26 up to and including Sunday February 6, 2011.
Festival program
The festival program consists of three main sections that may all comprise feature films, short films and art installations:
Bright Future
presents idiosyncratic and adventurous new work by novice makers. The section mainly consists of first or second films. The
Tiger Awards Competitions
for first and second features and for short films are part of Bright Future.
Spectrum
comprises new and recent work by experienced film makers and artists who provide, in the opinion of the IFFR, an essential contribution to international film culture. Within Spectrum, the Shorts section comprises some 400 titles screened during the first festival weekend.
Signals
presents a series of thematic programs and retrospectives offering insight in topical as well as timeless ideas within cinema. This 40th IFFR, Signals comprises oeuvre screenings by filmmakers F.J. Ossang (France), Agusti Villaronga (Spain) and Nathaniel Dorsky (USA) as well as the theme programs Red Westerns (a choice of westerns produced between 1924 and 1980 in the USSR and former countries of the communist Bloc), Out of Fashion (a program about the flourishing interaction between fashion designers and independent filmmakers) and Raiding Africa (a program about Chinese-African relations including new works filmed in China by African filmmakers). More Signals-programs will be announced later. IFFR 2011 presents a special Jubilee program titled
XL
, referring to the festival's fortieth edition as well as 'extra locations'. During the festival period, the IFFR embraces its home base, the city of Rotterdam, with film screenings, exhibitions and events on around forty locations in downtown Rotterdam, including the recently opened new building of longtime IFFR venue LantarenVenster. As part of the jubilee program the IFFR welcomes its future audience for Not Kidding, a playful location and program suitable for kids from 4 years and up. Additional information about XL and Not Kidding will be available close to the festival period.
Supporting independent cinema: CineMart and HBF
The IFFR actively supports independent filmmaking from around the globe. The festival is a recognized international platform in Europe for launching new films and talent from Asia, Africa, Middle and Eastern Europe and Latin America. CineMart, IFFR's co-production market for small and medium scale film projects, takes place within the festival from January 30 to February 2, 2011. The festival's Hubert Bals Fund contributes financially to film projects from developing countries. Each year, the festival program contains a rich harvest of Hubert Bals Fund supported films. IFFR promotes training and talent development within its Rotterdam Lab for young film producers and the IFFR Trainee Project for Young Film Critics.
IFFR's YouTube Channel
contains a growing catalogue of freely accessible films screened during the festival. December 2009, the festival launched
Cinema Reloaded
, an online crowd funding platform for independent film projects. Within The Netherlands, the IFFR's DVD label
Tiger Releases
publishes some 20 films supported by the Hubert Bals Fund yearly.
Awards
Reflecting the ambitions of the IFFR towards supporting upcoming cinematographers, main prizes handed out during the festival go to films as well as to film projects. Eligible films are feature length works selected in the Tiger Awards Competition for first and second films (three equal Tiger Awards of each 15,000 Euro) and short films selected in the Tiger Awards Competition for Short Films (three equal Tiger Awards for Short Film of each 5,000 Euro). Other juried prizes are the FIPRESCI, KNF, NETPAC and MovieSquad Awards given to Best Film in Competition, Best Film not yet acquired for Dutch distribution, Best Asian Film and Best Young People's Film respectively. One of the competing short films will become the Rotterdam Short Film Nominee for the European Film Academy 2011. Audience votes decide which filmmakers will be distinguished with the IFFR Audience Award (10,000 Euro for Best Film in Official Selection) and the Dioraphte Award (15,000 Euro for Best Hubert Bals Fund supported film in Official Selection). Film projects selected for CineMart 2011 may be distinguished with the ARTE France Cinema Award and the Prince Claus Fund Film Grant.
History
Famously, seventeen people attended the opening night of the first Film International Rotterdam on June 28, 1972. An initiative of the Rotterdam Arts Foundation, Film International (later: International Film Festival Rotterdam) showcased films purchased for distribution to the newly established circuit of art house cinemas in The Netherlands. For the 1973 edition, the festival moved its dates to February and attracted over 7,000 visitors. Driving force, famous figurehead and inspirational director until his early death in 1988, Hubert Bals gave the festival its solid reputation of commitment to and active support of independent cinema as well as of a welcoming meeting place for filmmakers, audiences, film professionals and film critics.  Under the subsequent directorships of Anne Head (1989), Marco Müller (1990-1991), Emile Fallaux (1992-1996), Simon Field (1996-2004), Sandra den Hamer (2000-2007) and currently Rutger Wolfson, the IFFR grew out to become one the largest audience driven film festivals in the world, while maintaining its focus on innovative filmmaking by talented newcomers and established auteurs as well as on presenting cutting edge media art. Successful IFFR initiatives like its coproduction market for film projects CineMart and its Hubert Bals Fund for filmmaking in developing countries became roles models for many festivals worldwide. The 40th IFFR edition takes place from January 26 up to and including February 6, 2011.
Funders and business partners
The International Film Festival Rotterdam is subsidized by the national and local governments. For theme sections, collaborations with other Rotterdam cultural institutions and special projects, the festival receives donations from private funds. Ultimately, the festival would not be possible without its large festival audience, hundreds of volunteers and support from its main business partners de Volkskrant and VPRO as well as many other partners and suppliers.
Box Office
The full program of the 40th International Film Festival Rotterdam will appear on Thursday, 20 January 2011, as IFFR Special insert in national Dutch newspaper de Volkskrant and simultaneously online at this website. The online box office (www.filmfestivalrotterdam.com) opens for Tiger Friends on Thursday January 20 at 8 pm and for all interested on Friday January 21 at 8 pm. The Festival Box Office in de Doelen opens at January 25 at 9.00 am.