Insight on the development of Ties That Bind: Asia Europe Film Producers Workshop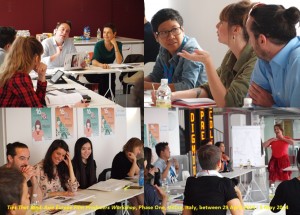 [caption id="attachment_43513" align="alignright" width="300"]
Ties That Bind: Asia Europe Film Producers Workshop, Phase One, Udine, Italy, between 29 April 2014 - 3 May 2014[/caption]
ASEF would like to congratulate
Ties That Bind: Asia Europe Film Producers Workshop
(TTB)
, a project selected under ASEF's
Creative Encounters (3rd edition)
in 2014, on receiving support from
Creative Europe
, the European Commission's financial support programme for the creative, cultural and audiovisual sectors in Europe. The new programme which will run until 2020, unites the previous MEDIA and Culture programmes under a single banner. TTB is the only project which was previously funded by the former programme
MEDIA Mundus
to receive funding in this transition year.
Ties That Bind
was organised alongside the 16
th
Far East Film Festival in Udine, between 29 April - 3 May 2014. The 5-day workshop was attended by 22 selected producers and industry experts from 15 different ASEM countries.
Ties That Bind
is organised by the FVG Audiovisual Fund (Italy), EAVE (Luxembourg), Far East Film Festival (Italy), Busan International Film Festival/Asian Film Market (South Korea). The workshop is supported by the Asia-Europe Foundation (ASEF), Arts Network Asia (ANA), Trans Europe Halles and Creative Europe.
ASEF's support to
Ties That Bind
respond to one of the recommendations during the
6th ASEF Experts' Meeting & Public Forum: Creative Economy in Asia and Europe - Emerging Pillar of Economic Growth & Development
, which took place in Hanoi, Viet Nam on 4-5 December 2013. The meeting suggested potential area of Asia-Europe collaboration and focused on co-production and mediating curatorial initiatives.
"Co-production and co-creation must be widely advocated and actively supported. This is premised on supply and value chains being inherently global, in addition to the mobile nature of the modern society and workforces. The mobility of cultural professionals must be strengthened and reciprocal exchange emphasised upon. Digital technologies may also be harnessed to facilitate co-creation.
Mediating curatorial initiatives must be encouraged to support cultural products that suffer from poor accessibility to markets."
Alessandro Gropplero, Project Coordinator, Public Relations of the Friuli Venezia Giulia Audiovisual Fund shared a
Report
 of Ties That Bind
.
The next step TTB is to organise a gathering of all former participants in Cannes, to introduce the new participants and enrich the network with its decision makers.
Justin Deimen from Singapore, one of the
participants
 from Asia and Europe that participated in this year TTB's edition also shared
his inside perspective
.
Similar content