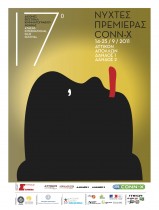 The Athens International Film Festival now accepts film submissions. The 18th edition will take place from the 19th to the 30th of September 2012.
AIFF is seeking features, documentaries, short films for the 18th Athens International Film Festival. Attracting young audiences, exceeding 50.000 people, AIFF is a great way to get your film noticed.
Submission deadline is the 13th of July 2011 and the festival can only consider films that have had their World Premiere after September 2011. Visit the submission page on the festival website for details.
The Athens International Film Festival Opening Nights Conn-x, was founded in 1995 by the Athens Film Society (A Non-Profit Organization) with the intention of highlighting lesser-known aspects/genres of independent cinema, introducing audiences to some of the best productions of the year and establishing itself as the ideal opening of the upcoming movie season.