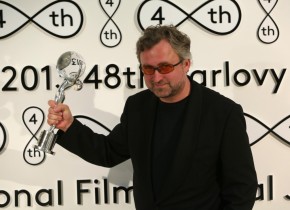 A number of films screened at the 48th Karlovy Vary IFF are now heading to local movie theaters. Michel Gondry's adaptation of Vian's book Mood Indigo entered Czech cinemas on July 4, 2013. It was followed on July 11, 2013 by Revival, a tragicomedy by Alice Nellice and Danish film A Hijacking by Tobias Lindholm based on the 2007 and 2008 real hijackings of two cargo ships by Somali pirates. Steven Soderbergh's latest film, the dazzling Behind the Candelabra, hit the movie theaters one week later, on July 18, 2013. On July 25, 2013 it was the fairytale-like Tango Libre by Frédéric Fonteyne and at the beginning of August do not miss the remastered copy of Vojtech Jasny's All My Good Countrymen. After August 22, 2013 enjoy Jan Hrebejk's Honeymoon, the final installment of his loose trilogy.
September will bring Norwegian film Escape by Roar Uthaug, selected for the festival by the Variety critics, followed by the provocative, but not superficially shocking Young and Beautiful by Francois Ozon and the winner of this year's festival in Berlin, Child's Pose, by Romania director Călin Peter Netzer.
In October, you can look forward to social drama Miracle by Juraj Lehotsky and Denis Tanovic's An Episode in the Life of an Iron Picker, another award-winner from Berlin.
Click here for more on the 48th Karlovy Vary IFF and the grand winners at this prestigious festival!