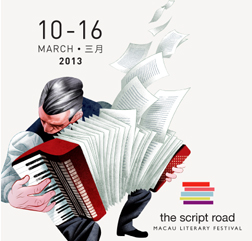 March is definitely Literature Festival season in China. The Script Road- Macau Literary Festival – takes a different pathway, being a grand meeting between writers and artists from China and Portuguese speaking communities. From 10-16 March 2013.
The Script Road – Macau Literary Festival was founded in 2012 by Ponto Final, a local newspaper. Today Ponto Final, the Cultural Affairs Bureau of Macau and the Macau Foundation are joint organizers of the festival.
The festival is the first grand meeting of literates from China and Portuguese Speaking Countries ever to be organized in the world. This year the festival will be held from March 10 to 16 and is bringing more than 30 renowned writers, publishers, translators, journalists, musicians, filmmakers and visual artists to the city.
Check out the programme, the guest writers and concerts for 2013 The Script Road.