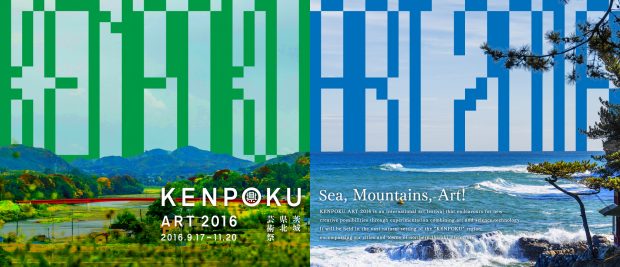 With the theme of Sea, Mountains, Art! and under the Artistic Direction of Fumio Nanjo, a new art festival KENPOKU ART 2016 is launched in Northern Ibaraki Prefecture, home to six regional cities. and a place of fascinating contrasts, between nature, traditional culture and society, science and technology.
The festival takes place 17 September – 20 November 2016.
Richly endowed with nature, the combination of scenic ocean and mountains lend it a truly unique atmosphere. Life is rooted in traditional culture and society, but the region, located just outside the metropolis of Tokyo, is close enough to feel the latest technology and culture.
As an art festival, KENPOKU ART 2016 will highlight the spirit of innovation in Ibaraki and focus on collaboration between art and cutting-edge science and technology while engaging in dialogue with nature. In the present day, art is no longer limited to paintings and sculpture. Media art using science and technology and even art applying biology that may transform the next generation are emerging. Ibaraki is the perfect place for this art festival, which introduces the new potential of art.
Read more about the artistic concept of Fumio Nanjo, General Director, KENPOKU ART 2016
Take a look at the Artworks and Artists list