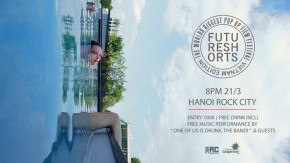 Future Shorts Vietnam is part of the first ever global pop-up festival, showcasing the most exciting short films from around the world. The festival currently takes place in over 50 cities and 17 countries and comprises a worldwide audience of a half-million people, on and offline. For the last 10 years, Future Shorts has built the world's largest community for short film fans worldwide. Future Shorts returns to Vietnam on Friday 21 March 2014.
This season includes critically acclaimed short films sourced from around the world, such as:
The Pirate of Love (Iceland; 2013) by Sara Gunnarsdottir, an animated feature about the outsider musician Daniel C.
The Hidden Smile (Spain; 2011) by Venture Durall which constructs a realistic tale on the values that flourish in a society formed by children
Irish Folk Furniture (Ireland; 2012) by Tony Donoghue, an animated documentary about traditional Irish furniture and winner at Sundance 2013 for Best Animation short film.
The local program includes "Hao Rock", about a young rocker who feels the pressure to live a conventional life, and "Grandfather", an experimental documentary about family relationships. The event begins at 8PM  Hanoi Rock City, 27/52 To Ngoc Van, Hanoi. Tickets are 100,000VND (including one free drink).