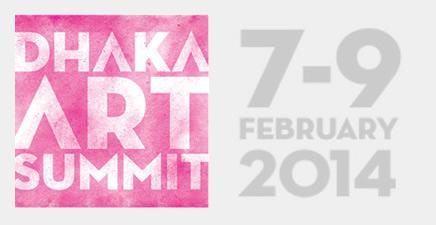 The Dhaka Art Summit will return for its 2nd edition from February 7-9 2014. After the success of its 1st edition, the 2nd edition of the Summit will focus on the South Asian region and will highlight its vibrant contemporary art scene.
The Samdani Art Foundation announces the second edition of the Dhaka Art Summit (7-9 February 2014, Dhaka, Bangladesh), a pioneering initiative for South Asian art which brings together artists, curators, galleries and visitors from across Bangladesh and the world. A major non-profit platform, the event was conceived to support museum-quality exhibits in Bangladesh, the development of South Asian art and international artistic exchange.
The DAS will feature five exhibitions curated by local and international curators, 14 solo art projects, a city-wide public art project by internationally acclaimed Raqs Media Collective, screenings of experimental films, performances, and presentations by 33 local and international galleries including over 250 artists from across the South Asian Region. Several collateral exhibitions will take place around the city during the Dhaka Art Summit.
Dhaka Art Summit 2014 will feature 33 local and international galleries. All exhibiting galleries will display art exclusively by South Asian artists.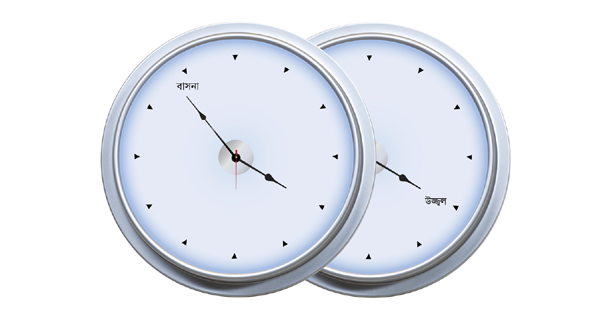 Image | Meanwhile Elsewhere from the series Untimely / Oshomoyik ( in Bangla ) | Medium: print on vinyl | Year: 2014 | Photo courtesy/credit: Raqs Media Collective
The public art project by Raqs Media Collective (Founded 1992, New Delhi)
Meanwhile | Elsewhere ( ইতিমধ্যে অন্যত্র ), 2014
Billboards and Posters, Words in Bangla, Clock-face Designs
Commissioned by the Samdani Art Foundation for the 2014 Dhaka Art Summit
Read more about the full programme at Universes-in-Universe Nafas Art Magazine